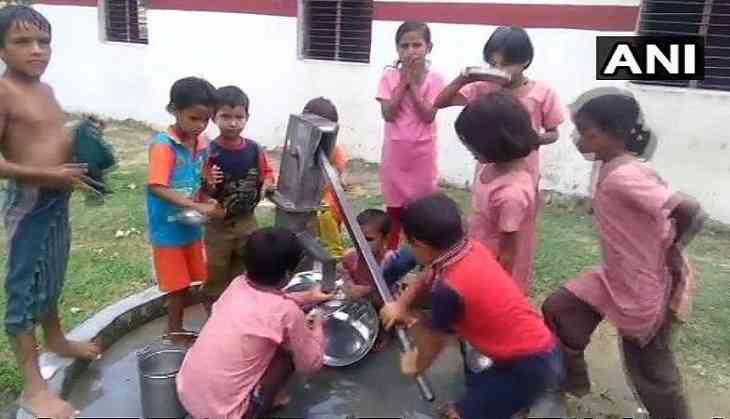 A shameful and shocking incident has come to light from Uttar Pradesh's Sambal region where some students have captured washing dishes in the government school. Yes, a video has got viral in which some girls can be seen washing plates at a hand-pump inside the school premises.
As per the news agency, ANI, Basic Shiksha Adhikari officer, Virendra Pratap Singh told that 'Yes, I have also received this complaint from elsewhere, we are inquiring and action will be taken soon.'
Students of a Government school in Sambhal seen washing dishes at a handpump in school premises. Basic Shiksha Adhikari(BSA) Virendra Pratap Singh says 'Yes I have also received this complaint from elsewhere, we are inquiring and action will be taken against those found guilty' pic.twitter.com/JO3IDfy4RZ

— ANI UP (@ANINewsUP) July 14, 2018
However, this shocking news came to light after a week when a video on social media is doing the rounds from Karnataka. Yes, the same incident also happened in Karnataka where girls can be seen washing tumblers and plates after having their mid-day meal at the government school.
As per the reports by the New Indian Express, this is not the first that has come to light that students are washing their plates but many times such kind of incidents came to light where children wash their utensils after having the meals provided by the school. Many times there has been a complaint filed regarding the food quality of the mid-day meal also because many students fell ill after eating it.
The video which had gone viral over the social media was of a government school located in NR Colony in Basavanagudi. The person who shot the video told that this is a regular practice that happened in the schools. He also added that there are two government schools in Basavanagudi, one is state-run school and the other is corporation school run by Bruhat Bengaluru Mahanagara alike.
Meanwhile, the Block Officer has ordered the probe in this matter.
Also read: Noida: Shocking! Son opposed mother's relationship with 'self-styled godman;'she hired three contract killers to kill him