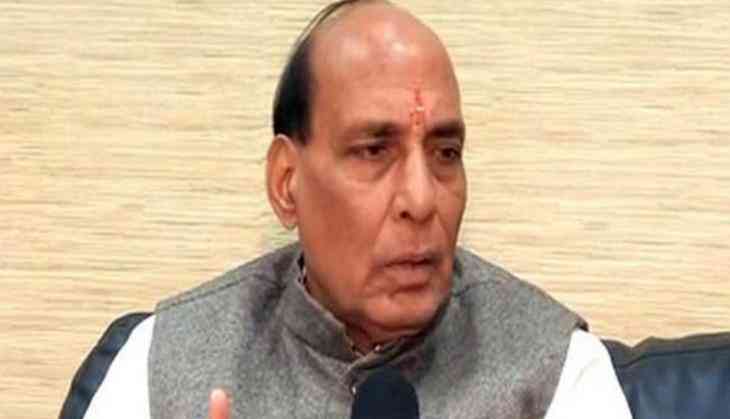 Union Home Minister Rajnath Singh on 3 June addressed the media on the completion of three years of the Narendra Modi-led central government in Delhi.
He lauded the Centre's governance model and asserted that there has been marked improvement in the security situation across the country under the prime minister's guidance and leadership.
He also elaborated on the new schemes and policies introduced by the government during the last three years:
- Under the decisive and strong leadership of Prime Minister Narendra Modi the National Democratic Alliance (NDA) government has completed three years in office.
- There is an improvement in the security situation in the country. We have been successful in countering the challenges posed by the ISIS.
- A meeting of Chief Ministers of Left Wing Extremism (LWE) affected states was held in New Delhi. We have adopted the doctrine of SAMADHAN to counter the LWE menace.
- Under the Security Related Expenditure (SRE) scheme we have increased the allocation from 575 crore to 675 crores in three years.
- We are expediting the process of infrastructure development in LWE areas. We have erected 2187 mobile towers in these areas.
- We are opening bank branches and post offices in LWE areas. Upgraded air connectivity has been provided to Jagdalpur in Bastar area.
- After the surgical strikes by the Indian Army in September last year infiltration in Jammu and Kashmir has come down 45 percent.
- Five new Indian Reserve (IR) battalions have been approved for Jammu and Kashmir. We have approved 63 projects under PM package worth Rs. 80,000 crore for J&K.
- Under 'Udaan' schemes we have given training to more than 20,000 youth of Jammu and Kashmir in the past three years.
- I assure that we will bring an end to Pakistan sponsored terrorism in J&K and establish peace and tranquility in the state.
- We have taken effective action against National Democratic Front of Bodoland (NDFB) and their back has been broken. More than 900 NDFB operatives have been arrested.
- All Central Armed Police Forces (CAPFs) work in extremely challenging environment. We have launched a dashboard to monitor redressal of grievances.
- We are strengthening the border infrastructure and the coastal security of our country.
- More than one crore FIRs have been registered through online mechanism under Crime and Criminal Tracking Networks and Systems (CCTNS).
- Meeting of Inter State Council was held after ten years. Eight Zonal Council meets were held in the last three years to resolve pending issues.
- Two new National Disaster Response Force (NDRF) battalions have been raised in three years. We have increased allocation to states under the State Disaster Response Fund (SDRF).
- Chandigarh has become the first Kerosene free Union Territory and State of our country.
- We have increased compensation for families affected by anti-Sikh riots of 1984. Certain cases have been reopened on Special Investigation Team (SIT) recommendation.
- We have expedited the process of giving security clearances to projects and improved the ease of doing business in the country.
-ANI