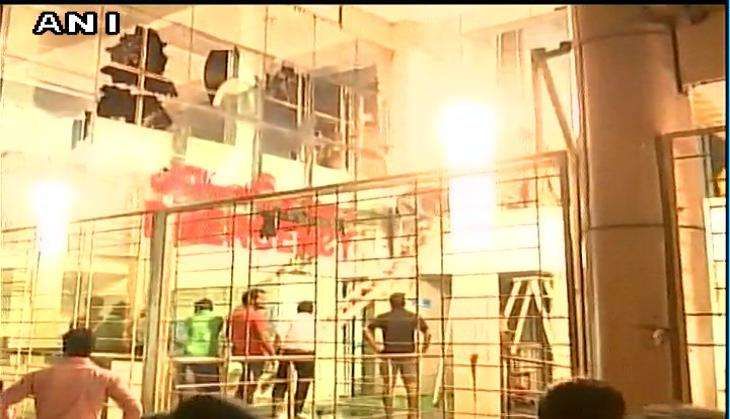 The National Human Rights Commission (NHRC), on 19 October issued a notice to the Odisha government over the massive fire at SUM hospital, in which at least 20 people were killed. The notice added that the hospital in question was reportedly warned as early as in 2013 about not adhering to safety measures, but the hospital authorities ignored it.
On the other hand, Delhi Health Minister Satyendra Jain called for an emergency review meeting of the officials of government hospitals.
In a statement issued today, the NHRC said it had taken suo motu cognizance of reports that due to a suspected short circuit, a major fire broke out in the SUM Hospital and Medical College.
The Commission further stated that in Odisha, out of 568 hospitals, only three have clearance from the department of fire safety.
"The Commission has observed that callous attitude and lapses of the authorities, if any, amount to violation of right to life of the patients. It has expressed shock on how the state authorities allowed such a large number of hospitals to function without proper fire safety clearance," the statement added.
Accordingly, it has issued a notice to the government of Odisha through its Chief Secretary, calling for a report in the matter within six weeks, including the relief and rehabilitation granted to the next of kin of the deceased and injured.
He has also been asked to provide information about the steps and precautions taken or proposed to be taken by the state government to prevent the recurrence of such mishaps.
Meanwhile, after taking stock at the SUM hospital, Union Health Minister JP Nadda said there were safety issues that needed to be addressed, adding that stringent action will be taken against those responsible for the tragedy.
Speaking to the media after interacting with the patients, Nadda said he had been instructed by Prime Minister Narendra Modi the very moment the fire was reported, to ensure the safety of the patients at the hospital.
"It is very saddening and shocking. It's also painful and worrisome that such an incident has taken place. I've been told that an inquiry is going on, but prima facie I find that some safety issues are there which need to be addressed," Nadda said.
The Union Minister also called on the state government to take adequate steps and action so that the faith of the people is reposed, while adding that the people responsible should be punished.
On the basis of the preliminary fact-finding report, Odisha government yesterday filed two criminal cases alleging negligence in conduct and safety against the hospital and initiated administrative inquiries into the mishap.
The Bhubaneswar Commissionerate police have arrested four hospital staff on charges of negligence in conduct and safety.
Some patients who were shifted from SUM Hospital to other hospitals in Bhubaneswar after the fire mishap, are said to be in critical condition and fighting for their life in ICUs.
--ANI