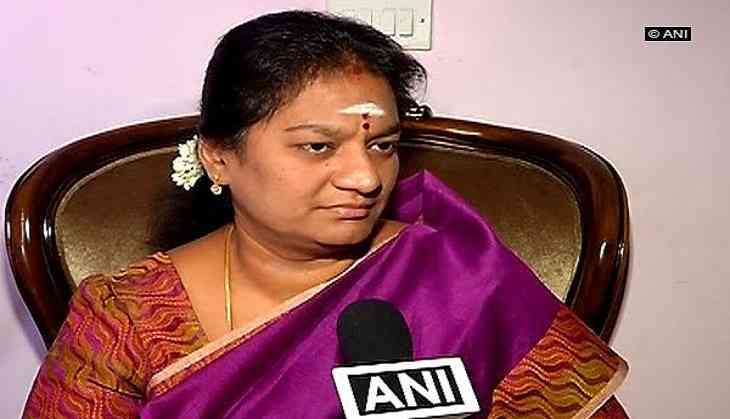 Sasikala Pushpa says drama going on in Tamil Nadu (ANI)
Rajya Sabha member Sasikala Pushpa has dubbed the removal of V K Sasikala's posters from AIADMK headquarters and talks of merger between the two factions of party as a 'drama'.
Talking to ANI here, she said that "the power struggle is going on between Chief Minister E Palaniswami & O Panneerselvam and both are making very big drama and cheating the party cadres".
"After TTV Dinakaran's arrest, both the factions of the AIADMK are staging drama of a merger," alleged Pushpa. The Rajya Sabha MP said, "Tamil Nadu needs a strong, daring woman and policy oriented party." She demanded that " first, all VK Sasikala family members should be removed from the party as the cadres do not like them".
Pushpa was expelled from AIADMK for allegedly slapping Trichy Siva, a MP from the Dravida Munnetra Kazhagam (DMK), at Indira Gandhi International Airport. After the demise of Jayalalithaa, Sasikala moved the Supreme Court seeking a CBI probe or a judicial investigation on the former Tamil Nadu CM's 'suspicious' death.
Meanwhile, O Panneerselvam camp leader M Pandiarajan expressed happiness that EPS camp had removed VK Sasikala's posters from AIADMK headquarters. Replying a question about the merger between two party factions, he told media persons in Chennai that "no specific decision has been taken regarding negotiations about the merger".
The Tamil Nadu Chief Minister K Palaniswami's camp (EPS camp) on Wednesday removed the posters of AIADMK (Amma) general secretary VK Sasikala and replaced them with cutouts of late Chief Minister J Jayalalithaa.
This happened after T T V Dinakaran, Sasikala's nephew was arrested by Delhi Police's crime branch on Tuesday. T T V Dinakaran was arrested for allegedly bribing middlemen to get AIA DMK's official party symbol for his faction from the Election Commission.
-ANI