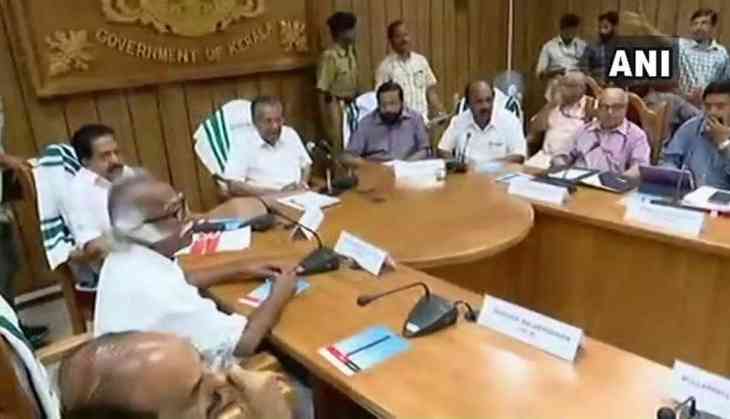 The all-party meet called by the Kerala CM Pinaryi Vijayan for Sabarimala row has not resulted any fruitful outcome, as the BJP and Congress walked out of the meeting.
The Sabarimala temple is bound to open on Saturday and the Supreme Court has decided to hear all the 49 petitions on January 22 next year.
Kerala CM Pinaryi Vijayan has said, "Supreme Court clearly says that the September 28 verdict stands. It means that the entry of women should be allowed. Govt cannot take any stand against this verdict. We respect the feelings of the devotees. We are bound to implement court verdict."
Activist Trupti Desai had earlier said that she will enter the temple on November 17 and that she has demanded security from the Kerala CM and the DGP, after she wrote a letter to both of them.
Desai said, "I have not received any response from the Kerala government. If any incident occurs, its responsibility will be on Kerala CM and DGP."
Trupti Desai, is the founder of the Bhumata Brigade. She had written to Kerala CM seeking security for her visit to Sabrimala Temple.
Thiruvananthapuram: #Visuals from the all party meeting called by Kerala Chief Minister Pinarayi Vijayan to discuss the issues related to Sabarimala Temple ahead of pilgrim season. #Kerala pic.twitter.com/I23y4rR92X

— ANI (@ANI) November 15, 2018
The Constitutional bench of the Supreme Court, had earlier, given a judgement in which they have allowed the entry of women of all age group in the temple, the verdict came in 4-1, where the CJI had said, that the culture and tradition cannot come in the way of rights of the women.
The BJP, Congress and the localities have protested against the decision by the apex court and until now, around 3 thousand protesters have been arrested.
Also read: Watch: Home Minister Rajnath Singh reiterates Shahid Afridi's comment on Kashmir; says, 'Woh Pakistan nahi
I have not received any response from the Kerala government. If any incident occurs, its responsibility will be on Kerala CM and DGP: Trupti Desai, founder of the Bhumata Brigade. She had written to Kerala CM seeking security for her visit to #SabrimalaTemple on 17 November pic.twitter.com/lB54OeU7AS

— ANI (@ANI) November 15, 2018