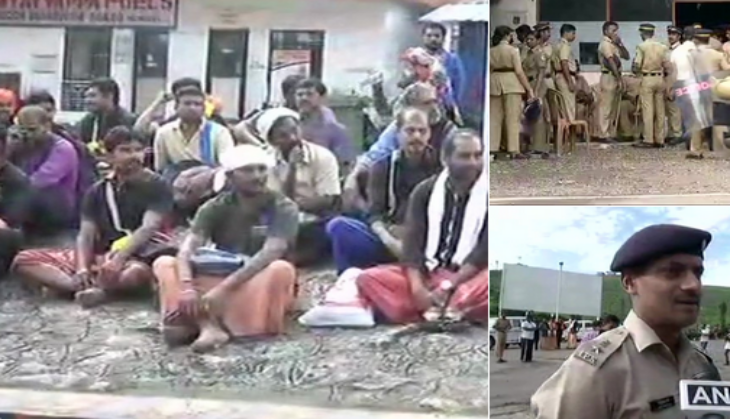 A tight security has been beefed up in Kerala and around Sabarimala Temple as the iconic Lord Ayyapa temple shrine will open for the monthly poojas today. The Kerala police have deployed over 2,300 security personnel, including 100 women and a 20-member commando team in and around the shrine and security has been tightened in the nearby areas of Sannidhanam, Pamba, Nilakkal, and Elavunkal, two days before the temple opening.
The security has been beefed in the backdrop of violent protests against the entry of women from 10-50 years of age, a menstrual cycle age.If necessary, around 30 women police personnel in the rank of circle inspector and sub-inspector and above the age of 50 would be deployed at 'Sannidhanam' (temple complex) for security, they said.
Devotees gathered at Nilakkal base camp begins the trek as Sabarimala Temple is set to open today. Nilakkal base camp in-charge Manjunath H said, "There is adequate police deployment here. We are not restricting the movement of devotees."
#Kerala: Devotees begin the trek from Nilakkal base camp to #SabarimalaTemple. The temple will open today evening and will be closed after the 'Athazha puja' tomorrow evening. pic.twitter.com/nK47UGMang

— ANI (@ANI) November 5, 2018
The devotees will be allowed to go up the pathway only on Monday afternoon, an official said. The temple opens its door at 5 p.m. and closes on Tuesday at 10 p.m.
The Pathanamthitta district collector in Kerala has imposed Section 144 of the CrPC in Sabarimala and nearby areas ahead of the Chithira Avittom Pooja.
The Supreme Court had lifted the ban from the entry of women from 10 to 50 age from entering in the lord Ayyapa Temple after which a huge protest took place in and around Sabarimala temple over top court verdict.
Also read: Shocking! 12 people died and 9 injured after goods carrier crushed SUV car on Gohana-Panipat highway