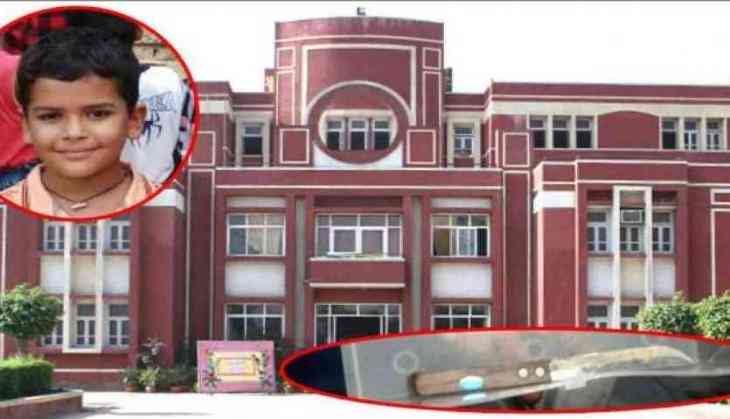 The owners of Ryan International School, Augustine Pinto (73) and his wife Grace Pinto (62) have been given interim protection on 12 September by Bombay High Court in the murder case of seven-year-old Pradyuman Thakur.
Earlier, Augustine and Grace along with their son Ryan Pinto had approached Bombay High Court on Monday to seek anticipatory bail ahead of their interrogation.
Meanwhile, Itisha Nagar, a former student of Ryan International School (Vasant Kunj) has penned an emotional open letter to Dr AF Pinto, Grace Pinto and CEO Ryan Pinto in the wake of the murder of seven-year-old Pradyuman.
Here is what her letter says:
This is a long one. Please bear with me.
An Open letter to Dr. AF Pinto, Madam Grace Pinto and CEO Ryan Pinto
The darkest places in hell are reserved for those who maintain their neutrality in times of moral crisis.
-Dante Alighieri
I have studied in Ryan International School Vasant Kunj for 13 years. Some of my fondest memories involve my teachers and friends most of whom I'm still in touch with and remember with a lot of affection. So when you get to hear news about children (yes, plural) being killed 'inside' Ryan International School, not once but twice (at least), with no accountability whatsoever, you feel a strong need to express your anger in unequivocal terms. Two deaths in less than two years? And instead of stepping up and taking responsibility for things going south, your Principal shamelessly blames the deceased child's "hyperactivity" (Devansh Kakora) while his highness CEO Ryan Pinto claims pathetically that he has been "victimized" in light of the murder of the student in Gurugram branch. Have you no shame?
Ryan Group of schools has engaged in unethical and irresponsible behavior time and again. As a psychologist and professor today, I am in position to recollect some and list them down. While for many they may seem unrelated to the tragedy that transpired, but for me they are worth to be pondered upon. Especially since, 'International schooling' experiences take a lot from us (money and sometimes unfortunately even lives), but are we getting in return the quality education that we were promised?
1) Dictatorial Regime:
freedom to think does not exist in Ryans. Teachers and students are forced to think what the management finds is appropriate. For example, in an alumni-chairman interaction meet, I was 'trained and told' what to tell the Chairman, "we love you, you're the best, we couldn't get anything better". Of course, the Chairman perhaps had no clue about this, but one finds that hard to believe since over the years I found that Pintos love sycophants and are unrelenting to independent thought. In another case of authoritarianism, Ryan group of schools organize Theatre Festivals every year where students are forced to participate in song and dance programs, sometimes at the cost of their studies. Although theatre is also important, the fact that the program was forced replacing other important activities like 'annual & sports day', use of children as showdogs for questionable promotional activities the cost of which is ofcourse borne by the parents is a huge concern. Especially since we later came to learn that the 'theatre festival' was actually promotional gimmicks for Mr. Ryan Pinto to chummy up with his 'Bollywood contacts' and get a break in Bollywood.
Sure you enjoy acting Mr. Ryan Pinto and in fact you're indeed quite good at the drama (going by your very dramatic 'victimized' statement you issued in wake of the Gurugram murder), but must you force personal interests on over 2 lakh children and faculty?
2) Harassment of Teachers & Parents:
it is common knowledge amongst students that the teachers are mistreated in hands of the management. Plenty of us have seen that happen. In fact some of the students even joined teachers in a strike against the management couple of years back. But of course, nothing came out of that. (The power of the mighty).
Expecting nothing but slavery, the choice that many teachers got was get in line or get out. So much so, one of the best principals we had was rumoured to have resigned because of the difficult conditions created by the management. The latest in the list was an SMS sent by Ryan group of schools "urging" its teachers and students to enrol with the BJP. Though the management said it was voluntary but parents and teachers said otherwise. In fact, some teachers claimed their salaries were held back. This was later linked to the managing director Madam Grace Pinto's effort to 'lobby' for a Rajya Sabha seat by securing members for the ruling government party about 2 years back.
3) Religion:
the complaint here is not so much that Ryan promotes (forces) Christianity on its students, it is HOW they go about doing it. For example, every school has boards outside classrooms where students are encouraged to showcase their creativity. They usually get together and decorate it, presenting interesting topics of discussion (e.g. global warming, politics, solar system etc.). Our school also had them, until one fine day all the boards were replaced with wooden boards with Bible verses on them. Yes, each and every one of them. While, I would love to read Bible verses, any educationist would affirm that one does not create receptivity in the child to learn if you take something h/she likes and force them to read religious texts instead. And yes, that goes for any religion. In another incident, Saraswati idol in the music room also magically disappeared one fine day. I would have thought it was a miracle had 'sa re ga ma pa' and bhajans didnt follow suit. No one would talk about it, because no one was allowed to talk about it. Also, speaking of music, the one thing that spreads cheers in all age groups, forcing students to 'joyfully' sing hymns in 40 degrees of weather at morning assembly at the cost of some students actually fainting is not going to promote love for music in children. Actually, in defence of the school, it is not opposed to other forms of music. For example, our 'pious' school recently had Ranbir Kapoor and Katrina Kaif promoting Jagga Jasoos with Ryan Pinto in Ryan VK recently. Young children joined in chorus 'dil ullu ka pattha hai' as part of the promotions for the movie.