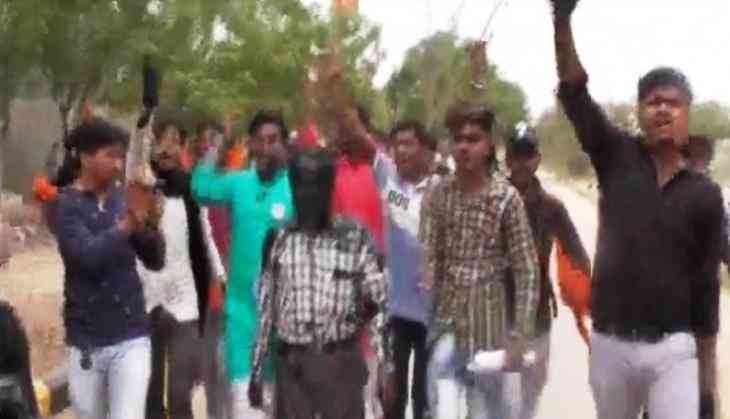 In Vijay Rupani-led BJP ruling Gujarat, Rashtriya Swayam Sevak's (RSS) the students' wing ABVP activists in Bhuj of Kutch district assaulted a professor of Krantiguru Shaymji Krishna Verma Kachchh University (KSKVKU). The activists painted professor Girin Baxi's face black and paraded him on Tuesday over allegations of discrepancy in the university electoral rolls.
According to the university's Vice-Chancellor Chandrasinh Jadeja, a group of ABVP supporters stormed into the classroom where professor Girin Baxi was delivering a lecture. They dragged him out and threw "a black substance" on his face. After that, they paraded him to the chamber of university registrar and gheraoed the chamber of the vice-chancellor for nearly an hour.
They claimed that voter registration forms submitted by ABVP supporters were selectively rejected by Prof Baxi. However, prima facie, their claim was found to baseless as all the forms were rejected as per the rules. Nonetheless, we had scheduled a hearing on the issue at 4.30 pm on Tuesday. But the ABVP supporters became aggressive and attacked Prof Baxi," the vice-chancellor told The Indian Express.
Inspector Vikram Kothiya said all the accused are associated with the ABVP. "They stormed into Prof Baxi's classroom and demanded an explanation why some forms were rejected. When the professor asked them to wait outside and informed them that a hearing was scheduled in the evening, the assailants dragged him out of the classroom and threw some chemical on his face," said Kothiya.
Baxi was rushed to a hospital where his condition is stated to be "normal". According to the police, Baxi complained of severe skin irritation after his face was blackened.
Also read: Vijay Mallya releases letter to PM Modi to put things in right perspective; says he has become 'poster boy' of loan default