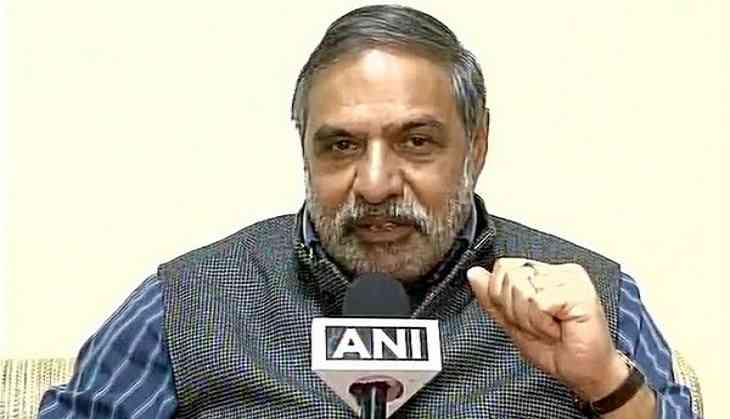 Branding the attack on Congress vice-president Rahul Gandhi's convoy in Gujarat as 'shameful', party leader Anand Sharma on Saturday said that the incident clearly indicates that the Bharatiya Janata Party (BJP) is 'disturbed' with the campaigning and upsurge of the grand old party across the nation.
"In a democracy, there is no room for violence and attack against political leaders. It is clear that the BJP-Rashtriya Swayamsevak Sangh (RSS) are disturbed by the efforts and campaigning of Rahul Gandhi and the upsurge of the Congress," Sharma told ANI.
Sharma said that the Congress is committed to the Gandhian values and principles and will always fight against violence and the communal agendas.
"We want to make it absolutely clear to Prime Minister Narendra Modi, Chief Minister of Gujarat, and to the BJP president that Congress shall never be cowed down. We will stand up and keep on fighting. Eventually their lies are getting exposed and their true faces are coming out," he said.
Another Congress leader Kapil Sibal said if a person with special protection is not spared, then it clearly reflects how the ruling-BJP Government is neither taking care of the Opposition leader in the country nor punishing the culprits.
Congress spokesperson Randeep Surjewala on Friday had said that Bharatiya Janata Party (BJP) goons allegedly pelted heavy stones at Rahul's car on his way to the helipad after meeting flood victims at Gujarat's Dhanera.
After this assertion, Gandhi further attacked Prime Minister Narendra Modi saying such obstacles like raising black flags, throwing stones won't stop them from helping people.
Rahul Gandhi took to Twitter and wrote, "Narendra Modi ji's slogans, black flags and stones will not stop us.... We will put in all our might into the service of people."
Surjewala branded the attack on Gandhi's convoy "disgusting and disgraceful," accusing the ruling Bharatiya Janata Party (BJP) saying the latter must know the truth can't be silenced.
Also, earlier, Rahul visited flood affected areas in Gujarat where he was shown black flags by a group of protesters.
Addressing the villagers and the media, Rahul Gandhi said that he was in Assam the other day, Rajasthan on Friday and now in Gujarat.
Amidst his speech, few people waved black flags to which he asked the guards to let them in, and saying, "I don't care."
"It's a difficult and grievous time for all of you and so I wanted to come amongst you all," he said addressing the crowd.
Following this, reacting to the Congress' barbs and demand of launching a probe into the incident, Gujarat Chief Minister Vijay Rupani has informed that a senior officer has been appointed to investigate into the incident in detail and assured that a strict action will be taken against the guilty.
"Govt has appointed Add DG rank officer to investigate in detail&will tk strict action agnst those found responsible (sic)," Rupani tweeted.
Rupani had earlier taken to Twitter to condemn the incident and assure an inquiry into the same.
"I condemn the unfortunate attack on Rahul Gandhi's convoy. I have instructed officers to take strict action against those responsible," he tweeted.
-ANI