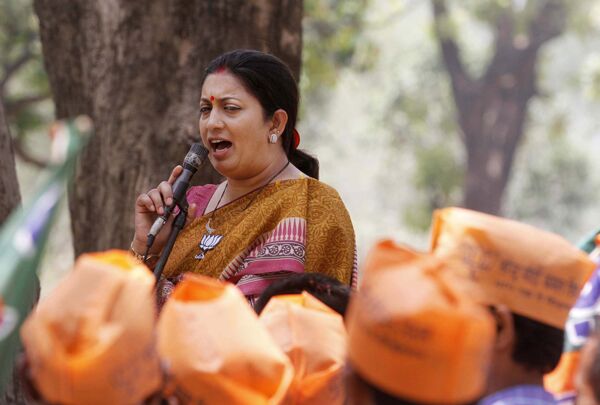 Battling allegations of having interfered with the administrative matters of the University of Hyderabad that led to a Dalit scholar committing suicide, HRD Minister Smriti Irani held a hurried press conference.
Here are five things she said:
1. This is not a Dalit vs non-Dalit confrontation as it is being made out by some people to ignite passion among students.
2. Congress MP Hanumantha Rao too had sent me a similar letter on the deteriorating law and order situation on the University of Hyderabad campus. He had also pointed out increasing deaths of Dalit students on the campus. We had sent six reminders, more reminders than were sent in the case of Bandaru Dattatreya to the university. This is the standard procedure of communication between the Ministry and Universities. Whenever an MP raises an issue, the university must get back within 15 days.
3. The student who was beaten by the Ambedkar Students Association is also an OBC. Dattatreya is a Yadav. So there is no question of one caste being pitted against the other. It is sad that in this century I have to put forth everyone's caste identities.
4. All the Dalit faculties were taken into confidence by the Executive council that decided to expel the student.
5. The college administration wasn't stern on the students. They were expelled from the hostel and didn't have access to public places. But he was allowed inside the library.
6. The suicide note of the Dalit student didn't mention any MP, any person from the university administration or any political party in his letter. The only organisation named in the letter is that of ASA.
The HRD Minister has been accused of meddling in the University affairs. In August, Labour Minister Bandaru Dattatreya sent her a letter bringing to her notice the alleged attack on ABVP President Susheel Kumar by ASA students and that the University campus had become a den of anti-national and casteist activities.
The HRD Minister sent four reminders to the College VC asking him to take action on the "VIP complaint." The subject line of the letter read: "Anti-national activities in Hyderabad Central University premises- violent attack on Sri Nandanam Susheel Kumar, Ph.D student and President of ABVP"
On 17 January, Rohith Vemula, one of the five Dalit scholars who were expelled from the university hostel, committed suicide. His death has sparked off nationwide protests and political parties have been making a beeline to the university campus amid the students' agitation.