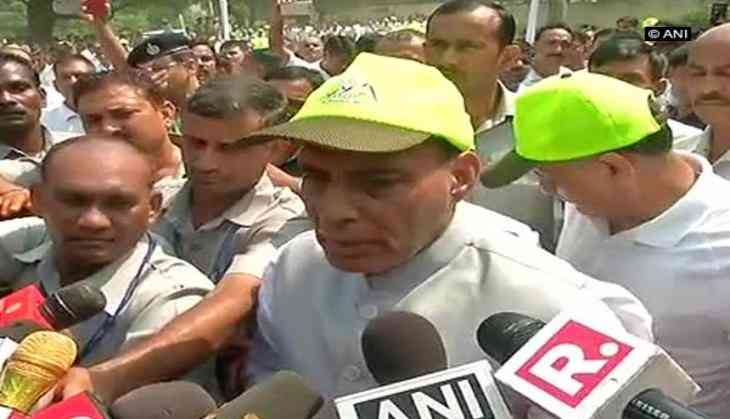 Home Minister Rajnath Singh (ANI)
Union Home Minister Rajnath Singh on 14 September said that the National Democratic Alliance ( NDA) at the Centre would file an affidavit on the matter of deportation of Rohingya Muslims in Supreme Court on 18 September.
"We will file the affidavit on the 18th of September in the Supreme Court," said the Home Minister.
On September 11, the Home Ministry of India prepared a copy of an affidavit that termed Rohingya Muslims as a threat to the national security and asked the Supreme Court to not prohibit the government's move to deport illegal Rohingya immigrants.
Terming Rohingya refugees as a threat to the national security, Singh also said that the issue of illegal foreign immigrants would be dealt with a firm hand.
Minister of State (Home) Hansraj Ahir on Wednesday said that the issues of law and order would be faced if the Rohingya immigrants stay in the country permanently.
Meanwhile, two Rohingya Muslim refugees have urged the Supreme Court to direct the Central government to not deport them to Myanmar.
The two Rohingya Muslim refugees, Mohammad Sallimullah and Mohammad Shakir, who had knocked the doors of the apex court in this regard, today told the court that they would face a certain death on being deported to Myanmar.
The Rohingyas fled to India after violence in the Western Rakhine State of Myanmar.
Rohingya, described by the United Nations as the world's most persecuted people, have faced heightened fears of attack since dozens were killed in communal violence in 2012.
According to the U.N. refugee agency UNHCR, at least 2,70,000 Rohingya refugees have fled from the violence affected Myanmar's Northern Rakhine state and sought refuge in Bangladesh where the limited shelter capacity is already exhausted.
-ANI