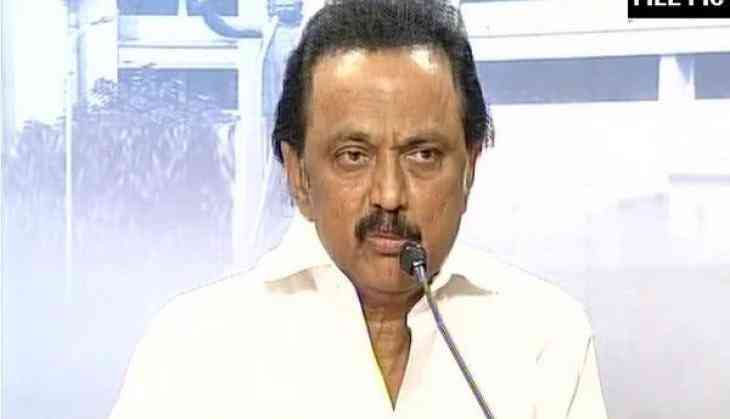 RK Nagar by-polls cancelled: Stalin demands CBI probe against CM Palaniswami (ANI)
Following the cancellation of the RK Nagar by-polls over allegations of rampant corruption and bribery, DMK working president MK Stalin has demanded a Central Bureau of Investigation (CBI) probe against Tamil Nadu Chief Minister Edappadi K. Palaniswami and other ministers to end cash for votes.
"Election Commission should also probe how bribing took place despite huge deployment of observers and flying squads. It should also take tough action against police officers and election officials," Stalin said in a statement.
Meanwhile, fuming over the cancellation of the R. K. Nagar by-polls, the Sasikala camp termed the Election's Commission decision as 'undemocratic'.
"It is a wrong decision by the Election Commission. I don't know the reason (why they are doing this) maybe even the EC does not want me to win so they are trying to postpone the polls. It is undemocratic," All India Anna Dravida Munnetra Kazhagam (AIADMK) leader TTV Dinakaran told ANI.
By-elections in Chennai's RK Nagar constituency, the constituency of former chief minister J Jayalalithaa, were cancelled by the Election Commission after cash-for-votes allegations surfaced.
The decision came after Income Tax raids in Chennai found money was distributed to voters.
The Income Tax officials had alleged that the VK Sasikala faction of the party paid Rs. 89 crore to voters to buy support for its candidate TTV Dinakaran, who is also her nephew. As evidence, the department had cited documents seized during raids on Friday in more than 35 places - including properties of the state health minister C Vijayabaskar.
Meanwhile the OPS faction of the party has welcomed the EC's decision. Tamil Nadu Bharatiya Janata Party ( BJP) chief Tamilisai Soundararajan also supported the commission's verdict and said the state needs corruption-free politics.
Stakes for the by-polls were very high as the results would have been a verdict of sorts in the war between the two rival factions of the ruling AIADMK.
-ANI