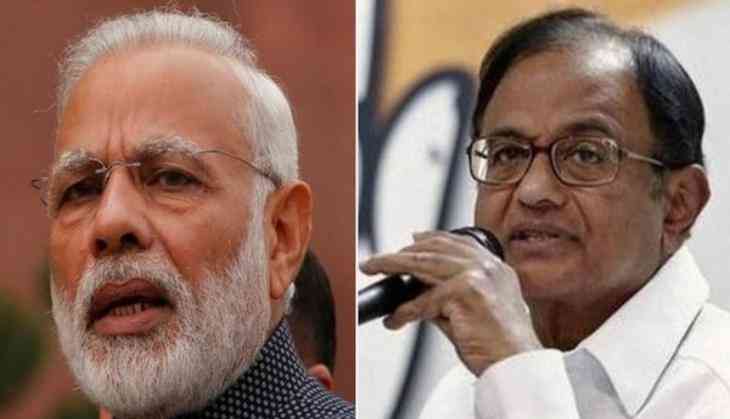 RK Nagar by-polls cancelled: Chidambaram takes swing at Modi Govt.'s demonetization (ANI)
Following the cancellation of by-polls in Chennai's R.K. Nagar constituency by Election Commission on Sunday, a day after cash-for-votes allegations surfaced, the Congress on Monday took a jibe at Prime Minister Narendra Modi on the demonetization drive.
'We were told demonetization has put an end to black money. Was money distributed in R K NAGAR white money?' Congress leader P. Chidambaram tweeted.
We were told demonetisation has put an end to black money. Was money distributed in R K NAGAR white money?

— P. Chidambaram (@PChidambaram_IN) April 10, 2017
The elections were earlier scheduled to be held on Wednesday. The Election Commission said that the by-elections shall be held by the poll panel in due course when the vitiating effect created by the distribution of money and gift items to allure the electors, as mentioned above, gets removed with the passage of time and the atmosphere in the constituency becomes conducive to the holding of free and fair election.
The decision came after Income Tax raids in Chennai found money was distributed to voters. The by-elections in R.K. Nagar became necessary after the death of former chief minister J. Jayalalithaa, who represented it for two terms.
The stakes for the by-polls were very high as the results would have been a verdict of sorts in the war between the two rival factions of the ruling AIADMK.
Earlier on Friday morning, the Income tax officials raided several premises belonging to Tamil Nadu Health Minister C. Vijayabaskar and his relatives in Chennai and other districts in the wake of complaints that he was involved in a cash distribution to voters in the R.K. Nagar constituency ahead of the April 12 by-poll.
The Income Tax (IT) authorities have issued summons to the Tamil Nadu Health Minister C. Vijayabhaskar to appear before them today in connection with the raid on his premises on Friday.
The IT department also conducted searches on the premises of actor and All India Samathuva Makkal Katchi leader R. Sarathkumar, former AIADMK legislator Chitlapakkam Rajendran and vice-chancellor of Dr. MGR Medical University S. Geethalakshmi.
-ANI