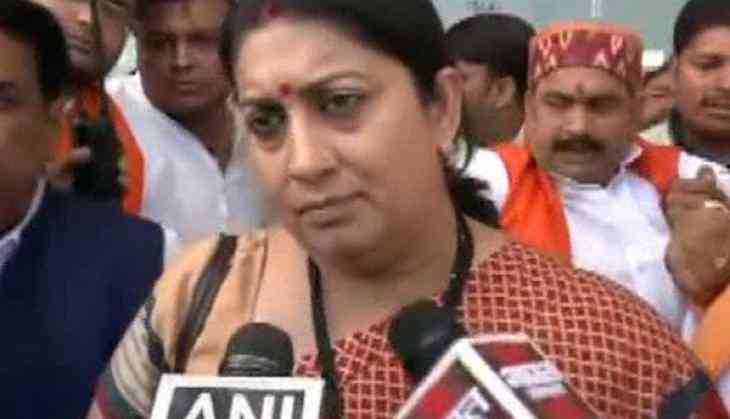 After the Prime Minister Narendra Modi-led government on Friday defeated the Opposition's No-Confidence Motion in the Lok Sabha, Union Minister Smriti Irani has said that this is a precursor to Congress' defeat in the 2019 general elections.
Irani said, "Defeat of Congress & opposition is a precursor to their defeat in 2019 It also gives the public at large a sense of how scattered opposition is & has given citizens a look into what kind of strategy Congress is willing to embrace that there is instability in the country."
Meanwhile, Union Minister MJ Akbar said, "PM Modi answered each and every question that was posed to him. He literally shattered the Congress."
Taking a dig at Congress President Rahul Gandhi's unexpected hug to the Prime Minister in the Parliament, Union Minister Jitender Singh remarked, "Rahul Gandhi's hug to PM Modi has done him more harm than good. What he did was also against the parliamentary decorum."
Union Minister Ravi Shankar Prasad, on the other hand, said that the result in Parliament is the reflection of people's trust in the Modi-led government. He stated, "The numbers have increased because the trust of people has also grown in the Modi Government."
Earlier in the day, the Modi-led NDA Government sailed through its first floor test in Lok Sabha by defeating the No-Confidence Motion moved by Telugu Desam Party (TDP).
The government grabbed a comfortable majority of 325 votes in its favour, who voted against the No Confidence Motion in contrast to 126 votes by the Opposition parties out of total 451 Members of Parliament present in the Lok Sabha.
The NDA's massive victory came after an 11-hour debate, followed by a 90-minute reply by the Prime Minister, during which he listed out the achievements of his government and underlined the failures of the Congress and its allies during their previous terms.
(ANI)