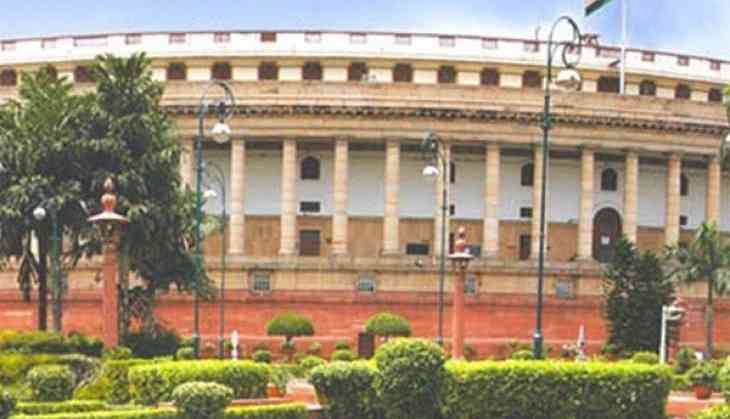 The Rajya Sabha today mourned the passing away of eight of its former members including Shantaram Naik, Balkavi Bairagi and Ashok Mitra.
On the opening day of the Monsoon Session of Parliament, Chairman M Venkaiah Naidu mentioned the passing away of former members Vishwasro Ramrao Patil, Mohammed Amin, Mitra, Bairagi, Kameshwar Paswan, Naik, Surinder Kumar Singla and M M Jacob.
He read out obiturary references for each of the departed leaders after which members stood in silence as a mark of respect.
While Patil, who represented Maharashtra in the Upper House from April 1988 to May 1993, passed away on June 15, 2017 at the age of 83 years, Amin, who represented West Bengal for two terms - from April 1988 to April 1994 and May 2007 to August 2011, died on February 12 this year at the age of 89 years.
Mitra, an economist and prolific writer, died on May 1 at the age of 90 years. He represented West Bengal in Rajya Sabha from August 1993 to August 1999.
Writer and poet Bairagi, who represented Madhya Pradesh in the House from June 1998 to June 2004, died on May 13 at the age of 87 years.
Paswan, who represented Bihar in the Upper House from April 1990 to April 1996, died on May 28 at the age of 77.
Naik, a two term member from Goa - from July 2005 to July 2017, passed away on June 9 at the age of 72 years.
While Singla,73, passed away on June 28, Jacob, 89, died on July 8. Singla represented Punjab in the Upper House from April 1992 to April 1998 while Jacob had two consecutive terms beginning July 1982 to July 1994.
Naidu also mentioned the killing of Sikhs in a sucide attack at Jalalabad in Afghanisatan on July 1.
The House also mourned the death of 1000 persons in cloudburst, thunderstorm, dust storm and floods in various parts of the country during May to July.
The killing of 48 persons in a bus accident in Pauri district of Uttarakhand was also mourned.
Naidu also noted that today was the birth anniversiary of Nelson Mandela, the anti-apartheid hero of South Africa.
(PTI)