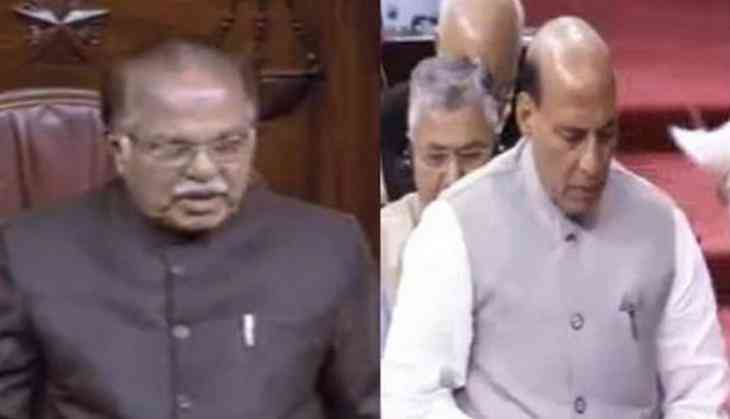 The Rajya Sabha on Friday praised and applauded Mohammad Sartaj for refusing to accept his son Saiukllah's body who was killed after a 12-hour police operation in Lucknow.
Upper House's Deputy Chairman P.J. Kurien urged the House to take note of Sartaj's deeds after Union Home Minister Rajnath Singh praised him for refusing to accept the body of his "traitor" son.
"The entire House greatly appreciates and will be proud of the sentiments of his(Saifulla)'s father. The House should note that," Kurien said.
Earlier addressing the House, Singh said the state and central police agencies, based on a tip-off, found incriminating evidence linking Saiukllah's to the train blast.
"In Lucknow, information was received about one Mohammad Saifullah alias Ali, resident of Kanpur, renting an accommodation in Haji Colony, Police Station Kakori. ATS Uttar Pradesh laid a siege of the house and made vigorous attempts to arrest the suspect Saifullah," he said,
However, Rajanth said, he refused to surrender and started firing on the ATS team.
"Ultimately, after 12 hours of efforts, the ATS team entered the room in which Saifullah was holed up and in the ensuing encounter, this suspected terrorist was killed," he said.
Rajnath informed that the police found eight pistols, 630 live cartridges and other material which included cash of Rs. 1.5 lakh, about 45 grams gold, 3 mobile phones, four sim cards, two wireless sets and some foreign currency in his room.
Rajnath said that total eight arrests have been made in the related incident by Uttar Pradesh's Anti Terrorist Squad.
"The above sequence of events presents an excellent example of coordination amongst the State Police and Central Agencies. Due to the prompt action taken by the police of both the States, a possible threat to the national security was successfully averted. Further investigations will be handed over to the NIA," he said.
-ANI