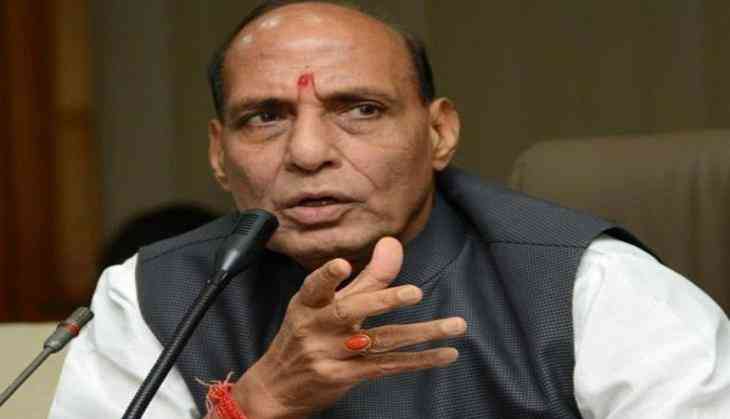 Union Minister Rajnath Singh (ANI)
Coming down heavily on Pakistan for sheltering terrorists, Union Home Minister of India Rajnath Singh slammed the neighbor country for giving political legitimacy to terrorists. He also talked about Kashmir issue and said that his government is open to dialogues with anyone who is interested to talk over Kashmir issues.
"Terrorism is a global phenomenon and Prime Minister Narendra Modi has been successful in bringing the international community on board with us. Today, The United States of America is at least condemning and warning Pakistan to stop sheltering Pakistan otherwise funding will be stopped. In Pakistan, United Nations designated terrorists are being given political legitimacy. Hafiz Saeed (Lashkar-e-Toiba chief) will form a political party, contest elections and sit in the parliament, and the Haqqani network too is being given legitimacy, whereas they have killed hundreds," said Rajnath Singh.
Singh's statement came in the wake of Hafiz Saeed's decision to float his party. Saeed's newly formed party will contest general elections in this year in Pakistan.
Talking on the issue of Kashmir solution, Singh said that his government wants to resolve the issue through dialogues. "We want a solution to the Kashmir problem and interlocutor Dineshwar Sharma has been made the special representative," said Singh. "He is open to dialogues with whoever wants to talk. Let me tell you, Kashmir was ours, it is ours and will always remain ours. The Kashmiri youth belong to us, but their lives are being played with and those who preach jihad to them, must first look inward before corrupting these children".
Talking on the naxalism , Singh termed it one of major security threats to India and claimed that his government brought down the violence committed by Naxals. "More than 3000 incidents of LWE violence in the 1980s, we have brought it down to less than 1000 incidents now, with key focus being the development initiatives in the LWE regions," Singh said this days after Naxal attack took place in Chattishgarh's Sukma distric.