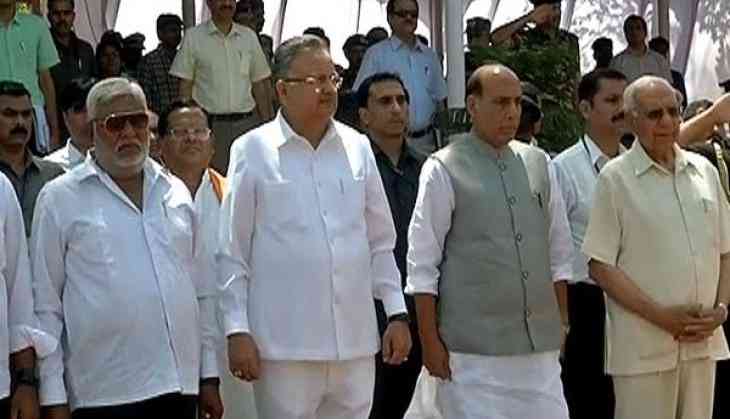 Union Home Minister Rajnath Singh paid tribute to the CRPF personnel, who lost their lives in the Sukma attack, during their wreath laying ceremony here on 25 April.

Besides Singh, Chhattisgarh Chief Minister Raman Singh and MoS Home Hansraj Ahir also paid homage to the slain jawans.

Expressing his pain over the incident, Singh yesterday condoled the death of jawans.

"Extremely pained to know about killing of CRPF personnel in Sukma. My tributes to the martyrs & condolences to their families. Spoke to MoS Home Hansraj Ahir about attack in Sukma, he is going to Chhattisgarh to take stock of the situation," Singh tweeted.

The Chhattisgarh Chief Minister also expressed grave concern over the Naxal attack while saying that he would talk with the head of CRPF and police on this matter.

"This is a grave matter. Our hearts go out to the martyred. We will rethink our strategies in that area soon. I will sit and have a talk with the head of CRPF and police," said Singh.

Earlier in the day, condemning the attack, Vice President Hamid Ansari said there is no justification for such heinous and reprehensible acts while demanding punishment for the perpetrators.

"I am deeply shocked to learn about the attack in Sukma District of Chhattisgarh in which a number of CRPF personnel lost their lives. There cannot be any justification for such heinous and reprehensible acts. The perpetrators must be found and punished for their crimes," Ansari said in a release.

Offering his condolences to the slain jawans' families, Ansari also wished for speedy recovery of the injured.

"I join the nation in offering my sincere condolences to the families of the CRPF jawans who sacrificed their lives in the line of duty. I also pray for the speedy recovery of the injured," he said.

Earlier, President Pranab Mukherjee condemned the attack and offered his condolences to the deceased's families.

"Strongly condemn attack on CRPF personnel in Chattisgarh; condolences to families of deceased & prayers for injured," the President tweeted.

Prime Minister Narendra Modi also condemned the Naxal attack terming it cowardly and deplorable, saying the sacrifice of the slain jawans would not go in vain.

"Attack on @crpfindia personnel in Chhattisgarh is cowardly & deplorable. We are monitoring the situation closely. We are proud of the valour of our @crpfindia personnel. The sacrifice of the martyrs will not go in vain. Condolences to their families," Prime Minister Modi tweeted.

As many as 26 CRPF personnel were killed and six others injured in the encounter with Naxals in Chhattisgarh's Sukma on 24 April.

The attack took place on personnel of the CRPF's 74th Battalion as they were assisting the local population in road building activity in the district.
-ANI