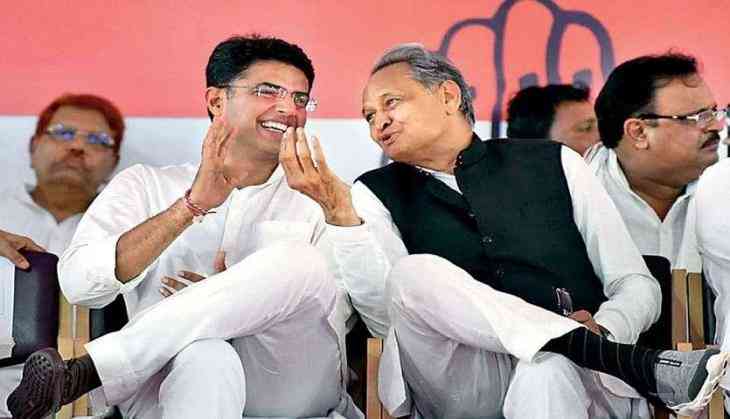 Ashok Gehlot and Sachin Pilot
In the war of words over the family and personal attacks, Congress leader Ashok Gehlot has attacked PM Narendra Modi and has posed several questions about the dignity of the post and office he holds.
Congress' probable CM candidate for the Rajasthan election, Ashok Gehlot has said that none of the former Prime Ministers of India have stooped so low to articulate the point over the personal attacks, the BJP has been making.
Some leaders of the Congress party, including Raj Babbar and Vilasrao, had earlier raised question about PM Narendra Modi's mother and father, wherein Babbar had said that the price of petrol and value of rupee is nearing PM Modi's mothers age and Vilasrao had asked the name of Narendra Modi's father.
Ashok Gehlot, while rallying in Makrana in Rajasthan, said that "Aap bataiye aap rajneeti ko kis star pe le gaye ho. Aaj tak ek PM,azaadi ke baad,aise nahi huye honge jis prakaar Modi ji ne vyavhaar kiya hai,rajnaitik roop se jis roop mein tippaniyaan ki hain,jis roop mein deshvaasion ko sandesh diye hain."
Gehlot questioned PM Modi's habit of questioning Pandit Nehru, Indira Gandhi and Rahul Gandhi and then taking emotional stand on the issues pertaining to his family.
He said, "Wo khud kya bolte hain Pandit Nehru ke baare mein, Rahul Gandhi ke baare mein, Sonia ji ke baare mein, wo tum bhool jaao. Modi ji bade bhaavuk hoke bolte hain meri maa ko kya keh diya, mere samaaj ko kya keh diya, mujhe kya keh diya."
Another Congress leader and Madhya Pradesh election incharge, Kamal Nath said "Wo apne baare mein hisaab dein, jawab dein ye Modi ji kyun itni chinta karte hain Rahul ji ki? Apni baat kyun nahi karte? Naujawanon ki baat kyun nahi karte? Kisanon ki baat kyun nahi karte? Rozgaar ki baat kyun nahi karte? Atmahatya ki baat kyun nahi karte?"
Also read: Ayodhya: Union Minister Uma Bharti says, 'BJP doesn't have a patent over Ram Mandir'; invites Owaisi, Azam
Aap bataiye aap rajneeti ko kis star pe le gaye ho. Aaj tak ek PM,azaadi ke baad,aise nahi huye honge jis prakaar Modi ji ne vyavhaar kiya hai,rajnaitik roop se jis roop mein tippaniyaan ki hain,jis roop mein deshvaasion ko sandesh diye hain: A Gehlot in Makrana,Rajasthan (25.11) https://t.co/E4pv7P7e3l

— ANI (@ANI) November 26, 2018
Wo apne baare mein hisaab dein, jawab dein ye Modi ji kyun itni chinta karte hain Rahul ji ki? Apni baat kyun nahi karte? Naujawanon ki baat kyun nahi karte? Kisanon ki baat kyun nahi karte? Rozgaar ki baat kyun nahi karte? Atmahatya ki baat kyun nahi karte?: Kamal Nath, Congress pic.twitter.com/qEidkSqwFV

— ANI (@ANI) November 26, 2018