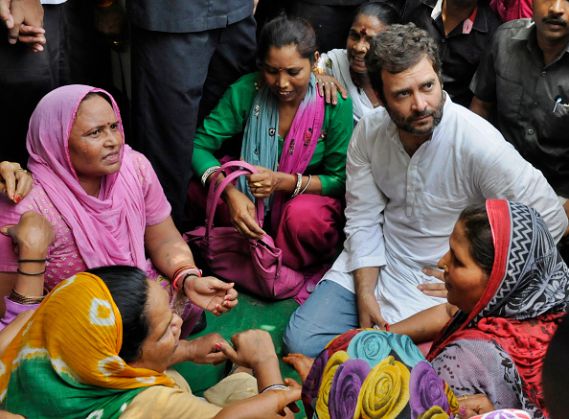 Congress Vice President Rahul Gandhi reached to out to Gujarati street vendors in Delhi on the morning of 13 July. He met them to discuss their day to day problems. He said that the cloth vendors from Raghubir Nagar had called him for help as the government was not giving them space for their stalls.
He was accompanied by two other Congress leaders PC Chacko and Ajay Maken
What is the backdrop?
With the Monsoon session beginning on 21 July, Rahul assured them that his party would take up their cause in Parliament Session.
The UPA had passed a bill that aims to regulate street vending and protect the rights of urban street vendors from harassment by police and civic authorities in Rajya Sabha, in February 2014.
The Street Vendors (Protection of Livelihood and Regulation of Street Vending) Bill, 2014 was cleared by the Lok Sabha in September.
Why street vendors?
Rahul Gandhi has been trying to break into AAP's core electorate - the common man. Few days back he met sanitation workers, who had been striking work over non-payment of wages. Meeting street vendors, follows the same strategy of appealing to the poor.
During his meeting he hinted at the fact that AAP government was not doing enough to protect the interests of the street vendors. During his meeting, he said that earlier the vendors had space and proper sheds. "The poor people here are being sidelined from the city and I will find a solution for these people," he said.
Congress, currently has no legislators in Delhi after it was wiped out by AAP in the Assembly Elections earlier this year.