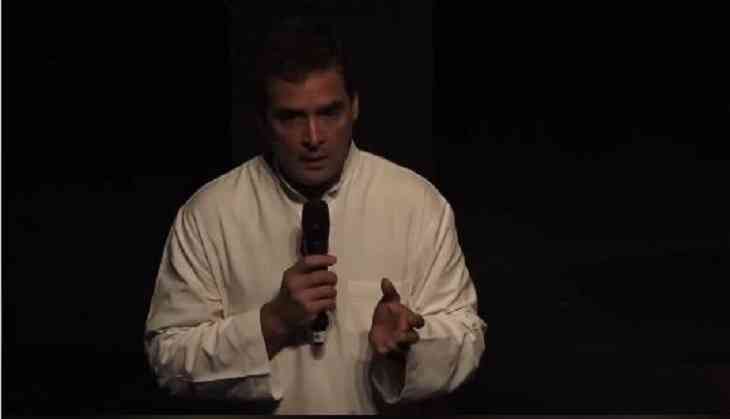 Congress President Rahul Gandhi is on his four-day tour of the United Kingdom and Germany. On Wednesday, Gandhi was at Bucerius Summer School in Hamburg, Germany, where he highlighted the various issues in India.
He addressed to the audiences and said that it is the Indian men's mindset because of which the crime against women is increasing in the country.
Rahul Gandhi added that the crime rate in the country has been increasing vehemently and women are becoming the soft targets.
He said that the violence against women in India is increasing day-by-day. He said that Indian men need to change their way to view Indian women. He also added that 'Men have to start viewing women as an equal and with respect. I am sorry to say that men do not.'
While addressing, he didn't forget to talk about the infamous hug to PM Modi during no-confidence motion held in Parliament. Gandhi told that 'Non-violence in India is a founding philosophy of our nationhood and the essence of being an Indian.' He further added that PM Modi was making a hateful comment at him, and he said that in return I have shown affection for him. He also added that some of the party members didn't like it. He disagreed with them.'
Listen to the full speech of Rahul Gandhi at Bucerius Summer School in Hamburg, Germany:
LIVE: CP @RahulGandhi addresses a gathering at Bucerius Summer School, Germany. #WillkommenRahulGandhi https://t.co/OeiNci1zhS

— Congress (@INCIndia) August 22, 2018
Further, Gandhi lashed out Prime Minister Narendra Modi for not solving the job crisis in the country. Rahul said that what work PM Modi did is only for the big corporates not for the poor in the country.
"The Dalits, minorities, tribals are now not allowed to gain from the Govt. All the money that used to go into schemes for the poor are now going to a few large corporates," Congress President said.
Watch Video:
Also read: Atal Bihari Vajpayee Death: PM Modi's tribute to former PM surprised everyone; people said, 'no PM did this before'