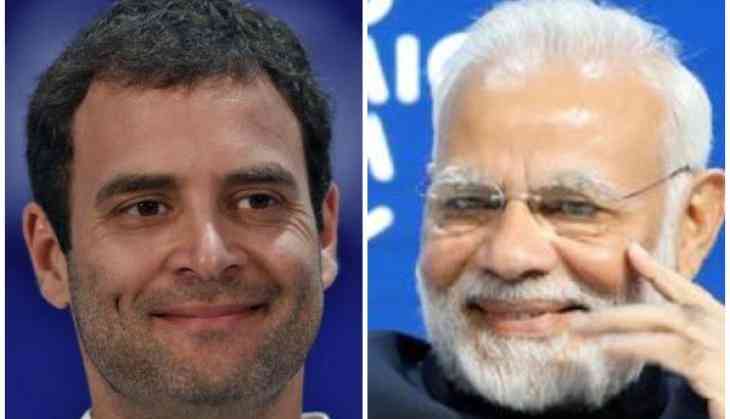 Congress president Rahul Gandhi today has taken upon the Prime Minister Narendra Modi at the AICC national convention and has said that PM Modi needs to come out clean on the issue of jobs and unemployment, and that he dares him for a debate.
Rahul Gandhi, while addressing the party workers at the AICC's minority national convention, has said that the BJP is committed in destroying the institutions of the country as seen through CBI, RBI, NSSO etc.
Rahul Gandhi said, "The institutions in India do not belong to any party, they belong to the country, and to protect them is our responsibility, be it Congress or any other party. They(BJP) think they are above the nation, in 3 months they will understand that nation is above them."
#WATCH Rahul Gandhi: I challenge the BJP, let Narendra Modi ji debate with me for 10 minutes on stage. He is scared, he is a 'darpok' person. pic.twitter.com/tjr1qkPI5l

— ANI (@ANI) February 7, 2019
Congress, after winning the 3 Hindi heartland states and inducting Priyanka Gandhi Vadra in to active politics, is running ahead of the BJP as the Lok Sabha elections are approaching. But, the brand Modi has another level of image, to which it is almost impossible for the Congress to target at present.
Rahul Gandhi further added that "Hindustan ka pradhanmantri sirf jodne ki baat kar sakta hai, todne ki nahi, todne ki kari toh usko hata diya jayega. 2019 mein Narendra Modi, BJP,aur RSS ko Congress harane ja rahi hai."
Posing a challenge to PM Modi, Rahul Gandhi said, "I challenge the BJP, let Narendra Modi ji debate with me for 10 minutes on stage. He is scared, he is a 'darpok' person."
ALSO READ: SC might suspend CBI's interim director M Nageshwar Rao for contempt of court in
Rahul Gandhi: The institutions in India do not belong to any party, they belong to the country, and to protect them is our responsibility, be it Congress or any other party. They(BJP) think they are above the nation, in 3 months they will understand that nation is above them pic.twitter.com/VC7Azjk3Ot

— ANI (@ANI) February 7, 2019