Happy Birthday Rahul Gandhi
Congress President Rahul Gandhi is celebrating his 48th birthday today i.e. 19th June 2018. On this special occasion, he had received the wishes not only from his party members but also from oppositions. Prime Minister Narendra Modi has also extended his greetings to Congress chief and said 'Birthday greetings to Congress President Shri Rahul Gandhi. I pray for his long and healthy life," PM Modi wrote on Twitter.'
Well, this is the first birthday celebration of Rahul Gandhi as a Congress President. He took the charge as Congress president last year in the month of December. He had replaced his mother Sonia Gandhi who had served the party for a long 19 years. However, Gandhi joined politics in 2004, since then, everyone was expecting him to become the PM of the country. However, it had remained the dream of the party until now.


Warmest Birthday greetings to Congress President @RahulGandhi from everyone in the Congress family.🎈 🎊 pic.twitter.com/9398ZU2xqL

— Congress (@INCIndia) June 19, 2018
Well, still there is a hope among the party members that he might become the leader in 2019 Lok Sabha Elections. Even Rahul has also expressed his will to become the PM of the country. However, he had been trolled by the opposition and netizens for this wish.
Because of Rahul Gandhi's several speeches and remarks during a rally or in LokSabha, the party felt shameful for what he said and even on social media trollers called him 'Pappu' for his speeches.
Recently, he had something very fizzy that is likely to haunt him forever. Yes, according to Rahul Gandhi, the owner of Coca-Cola sold shikanji in America and the owner of McDonald's used to run dhaba in his beginning stage. Later, his knowledge about Coca-Cola and McDonald made the headlines and people started trolling him and creating some funny memes with a campaign #AccordingtoRahulGandhi. Well, this is not the first time that Rahul had entertained the people with his speeches but he did it several times.
Also read: After Rahul Gandhi's comment over Coca-Cola and McDonald, these companies founder, #AccordingToRahulGandhi will make you go ROFL
Earlier, he had also called the Lok Sabha speaker as Madam instead of Sir and also he had tried to troll PM Modi for wearing Rs 10 lakh suit at an interaction with Obama at Hyderabad House in 2015. During a rally, Rahul showed his torn kurta to the public. Later, Twitterati trolled him for doing so.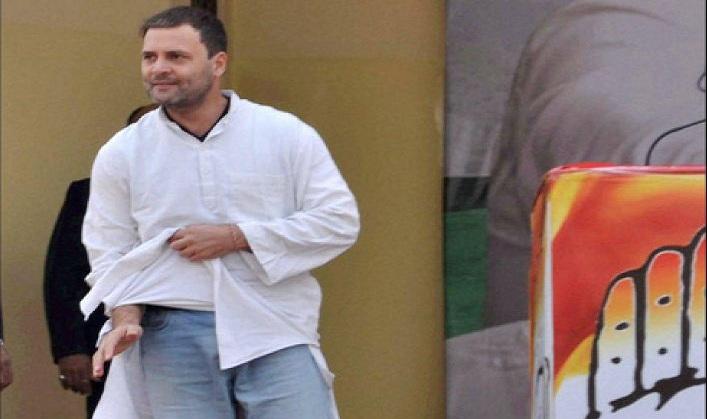 For more interesting speeches of Rahul, you can see the video given below:
Also read: After Virat Kohli's fitness challenge, now Rahul Gandhi dares PM Modi with this open challenge; here's how Twitterati reacted on Congress President challenge