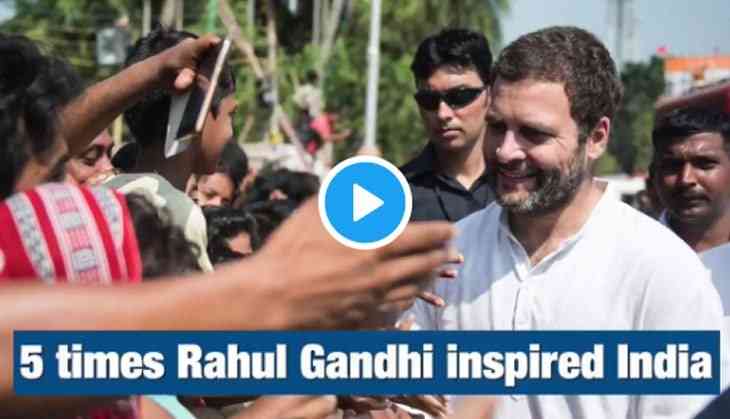 Congress President Rahul Gandhi turned 49 on Wednesday (June 19). On his special day, Congress party has a shared an inspiring video on the official Twitter handle.
The party has tweeted a throwback post on Wednesday morning with a caption, 'On Congress President @RahulGandhi's birthday, we look back at five moments when he inspired Indians everywhere.'
In the video, there are some old clips of Rahul Gandhi's speech when he inspired Indians.
On Congress President @RahulGandhi's birthday, we look back at five moments when he inspired Indians everywhere. #HappyBirthdayRahulGandhi pic.twitter.com/Clj0gJ6kqj

— Congress (@INCIndia) June 19, 2019
The video compiled of five speeches and interactions of Congress chief. In the first and fifth clips, Rahul Gandhi can be seen speaking in Parliament during the no-confidence motion against PM Narendra Modi on 20th July 2018.
This was the speech that went viral as Rahul emphasis on giving love to others and at last he moved towards Modi and hugged him at the end. At last, he also told what it means to be Indian.
The second clip was taken from his trip to the UAE where he interacted with the Indian community in Dubai. The third clip was of his interaction at the Hindustan Times Leadership Summit held in October 2018. The highlight of the program was 're-imagining India'.
The fourth clip is from Rahul's visit to Stella Maris College, Chennai, in March. In this event, held after election dates were announced, Rahul spoke about various issues, including women's empowerment. Rahul told students not to accept prejudices about the limitations of women.
Meanwhile, the video has gathered over 20,000 views and over 1,000 comments.
Rahul Gandhi received several birthday wishes across the country, including PM Modi.
Best wishes to Shri @RahulGandhi on his birthday. May he be blessed with good health and a long life.

— Narendra Modi (@narendramodi) June 19, 2019

Many social media users took a dig at the video for its caption.
Check out some reactions:
Happy birthday BJP campaigner

— Jayantibhai patel (@Jayanti97178025) June 19, 2019
Very inspired in deed . Might be because of these inspirational speeches people of India voted BJP.

— Shankara (@fondoflinux) June 19, 2019
Inspired for what.... How to loose elections..... Anyways happy birthday @RahulGandhi #HappyBirthdayRahulGandhi

— Vihar Gandhi (@gandhi_vihar) June 19, 2019
He inspired many corrupts by taking 50,000 BAIL in Multi Crore Scam ....

— Sandeep Mishra (@Sm4bjp) June 19, 2019
Inspired??? Ru joking???

— karthikeyan (@karthikeyan1591) June 19, 2019
Agar Rahul Gandhi Inspire Karta hai then Baburao ganapat rao aapte kya karega!

— Sharma👻 (@MogamboSharma) June 19, 2019
What do you think about this video on Rahul Gandhi's birthday? Comment..
Also Read: PM Modi wishes good health, long life to Rahul Gandhi on his birthday