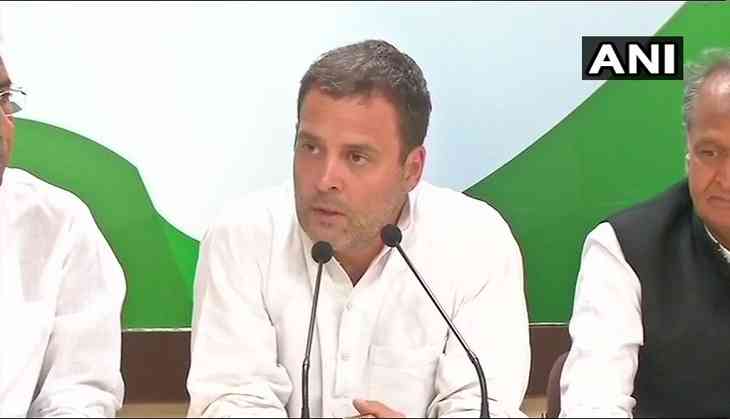 Rahul Gandhi in a press conference today at the Congress party headquarters has alleged that PM Narendra Modi is favouring the capitalists of the country and the deal between the Dassault company of France and Anil Ambani's Reliance has been mediated by him.
Rahul Gandhi has launched an all-out offensive against the Prime Minister where he accused PM Modi of "stealing" the Rafale aircraft from the Hindustan Aeronautics Limited (HAL) and giving it to Anil Ambani.
Rahul in the press conference said that ''Narendra Modi government wanted Anil Ambani's firm as offset partner, and Ex-President of France Francois Hollande has claimed that India's PM Narendra Modi gave Rs. 30,000 crore as a compensation to Anil Ambani"
He further added that he has heard from some sources that "Nirmala Sitharaman has gone to France; no one knows what is the big emergency in France that Defence Minister Nirmala Sitharaman has to visit Dassault factory."
I would like to clearly tell the youth of the country that the Prime Minister of India is a corrupt man: Rahul Gandhi #RafaleDeal pic.twitter.com/6PMQOtYY3P

— ANI (@ANI) October 11, 2018
It is to note that Congress is launching scathing attack on PM Modi and the BJP by the expose of France's media company Media Part wjich took the interview of ex-President Francois Hollande.
Earlier former French President revealed that Indian PM had told them that Reliance should get a deal. Now a senior official of #Rafale has said the same. It is a clear cut case of corruption: Rahul Gandhi pic.twitter.com/N5THwJvRdc

— ANI (@ANI) October 11, 2018
Rahul Gandhi said "We questioned the PM in Lok Sabha but yet to get any answer; Why did Nirmala have to rush to France?"
"Earlier former French President revealed that Indian PM had told them that Reliance should get a deal. Now a senior official of #Rafale has said the same. It is a clear-cut case of corruption" said Rahul, adding that "PM is Anil Ambani's Chowkidar, not India's"
Also read: Self-styled godman Rampal convicted in 2 murder cases by Hisar court, quantum of sentence to be