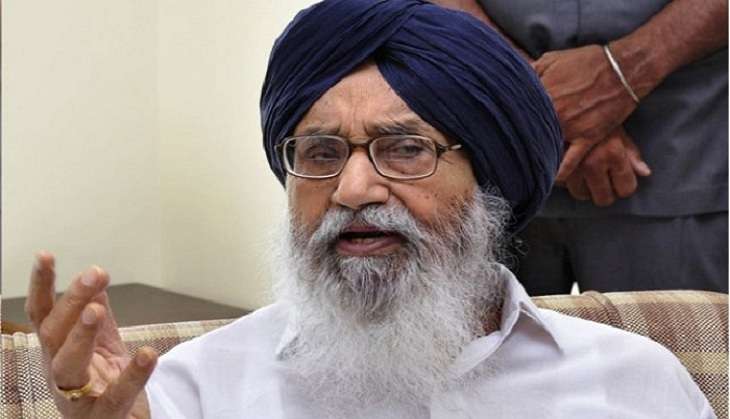 Punjab Chief Minister Parkash Singh Badal on Thursday downplayed claims made by Congress state chief Amrinder Singh where he asserted that the SAD-BJP alliance would narrow down to 10-20 seats in the upcoming assembly elections and said that the state has rejected the grand old party numerous times and will do the same in the polls slated to take place next month.
Dubbing Amrinder Singh and the new Congressman Navjot Singh Sidhu as opportunists the Punjab Chief Minister said people of Punjab will not support such people who could not even remain loyal to the parties who introduced them in politics.
"He (Amrinder Singh) keeps pressing on the fact that his party will form a government is wrong. Punjab has rejected his party many times," Said Badal.
"Both Amrinder Singh and Navjot Singh Sidhu are opportunists. Sidhu could not remain loyal to the party which introduced him to politics, gave me position, made his wife a minister. Even Amrinder Singh was a part of Akali dal. And I am sure people of Punjab will not support such opportunists. We are not scared of the Congress," he added.
Taking on the SAD government, Amarinder Singh on earlier in the day said the grand old party is aiming for two-third majority in the upcoming assembly polls, adding the incumbent Shiromani Akali Dal-Bharatiya Janata Party (SAD-BJP) alliance will manage to win only 10 to 20 seats.
Addressing the media along with newly-inducted member Navjot Singh Sidhu, Captain Amarinder said the people of Punjab are fed up with the SAD and want to dethrone the government.
"Akali-BJP will manage to win just 10-20 seats. We are eyeing for two-third majority so that we have the power to make the much needed constitutional changes to bring Punjab back on its feet," he said.
Punjab will vote on February 4 and the counting will take place on March 11.
--ANI