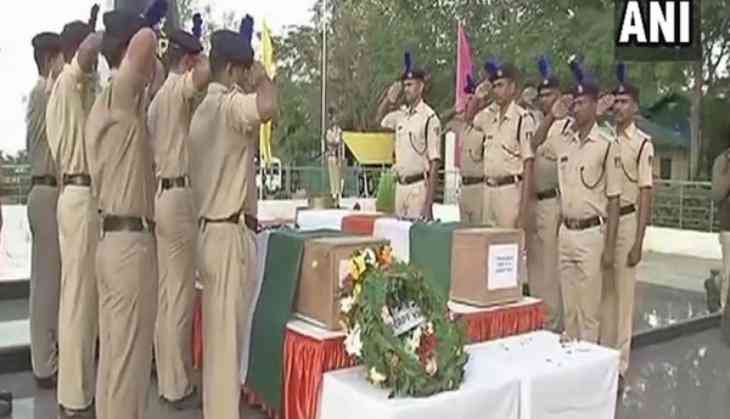 Pulwama encounter: Wreath-laying ceremony of bravehearts to be held today
The wreath-laying ceremony of the Central Reserve Police Force (CRPF) bravehearts, who lost their lives in yesterday's Pulwama encounter, will be conducted at several places across India.
The mortal remains of martyr Ravindra Baban Dhanawade will be taken to Pune by a special aircraft. DIG CWS-II would be present in Satara where the last rites of the martyr would be performed.
DIG GC of Haryana would accompany the mortal remains of martyr Jaswant Singh, which will be moved to Gurugram from Delhi.
DIG GC of Gandhinagar would be present during the last rites of martyr Borase Dinesh Dipak, whose mortal remains would be carried to Naroda from Ahmedabad.
Martyr Md. Yaseen Tali's mortal remains would be moved to Pattan of Jammu and Kashmir's Baramulla district. DIG (ops) from Kashmir would accompany the bodyto perform last rites.
The wreath laying ceremony of Shaheed Jaswant Singh would be conducted at the SDG (Special Duty Group) CRPF, old JNU complex, New Delhi.
Eight security personnel, including four CRPF soldiers and four policemen, were killed in the encounter between the security forces and fidayan terrorists in Jammu and Kashmir's Pulwama district yesterday.
In the massive gunfight, three terrorists were also gunned down.
The terrorists had carried out a suicide attack on District Police Lines in south Kashmir's Pulwama.
While Jammu and Kashmir Chief Minister Mehbooba Mufti strongly condemned the killing of jawans, Union Defence Minister Arun Jaitley condoled the death of the personnel killed in the encounter.
-ANI