Somi Das
| Updated on: 1 December 2015, 12:29 IST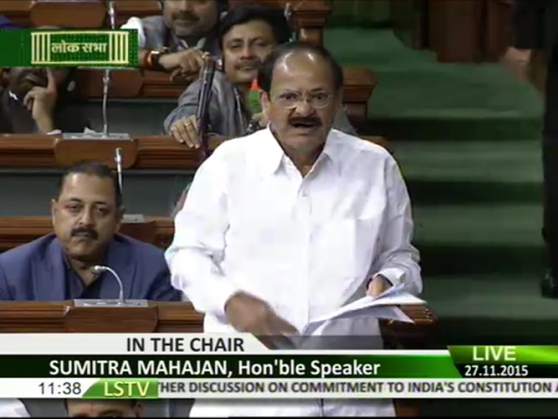 There is broad consensus within the BJP that party leaders must stop making provocative statements, and refrain from derailing the Prime Minister's development agenda. Senior party leaders reiterated this stand on Tuesday at the BJP's Parliamentary Party meet.
One of the major proponents of this line of thought was Parliamentary Affairs Minister Venkaiah Naidu. He told party leaders to refrain from making provocative statements in the meeting. Vekaiah had on Monday admitted that there is "some intolerance" in local pockets that needed to be dealt with strongly.
Venkaiah Naidu ji said we should be careful with words and should steer clear from controversies-MA Naqvi,BJP after parliamentary party meet

- ANI (@ANI_news) December 1, 2015
Jaitley ji said GDP growth rate is a very positive& welcome development-M.A.Naqvi,BJP after parliamentary party meet pic.twitter.com/uEmbGvSfrI

- ANI (@ANI_news) December 1, 2015
The party has been criticised for controversial statements made by its leaders like Kailash Vijayvargiya, Yogi Adityanath and culture Minister Mahesh Sharma. BJP leader Sangeet Som's provocative statements right after the Dadri beef lynching incident also earned the party many brickbats.
The main grouse of the Opposition as well as critics of the BJP has been that the Prime Minister has not made any statement or taken any action to reign in the party members who have made irresponsible comments.
The meeting comes a day after the Parliament debated on the intolerance issue with an united Opposition - led by CPI's Mohammad Salim and Congress' KC Venugopal - insisting that the country witnessed some horrific incidents of intolerance in the last 15 months.
During the debate, the BJP rebutted all allegations of increasing intolerance in the country under the Modi government.
BJP's Meenakshi Lekhi accused those returning awards of being "intellectual mercenaries". She said: "I would like to assure them that India is not becoming intolerant and there is absolutely no data to support this fact. In fact, this atmosphere is sought to be created to malign the image of a democratic elected government and that is why I call them intellectual mercenaries, because they don't bother about tarnishing the image of a democratic government."
She also praised the Modi government for bringing down incidents of communal violence since coming to power.
The debate on rising intolerance in the country will continue in Lok Sabha today.