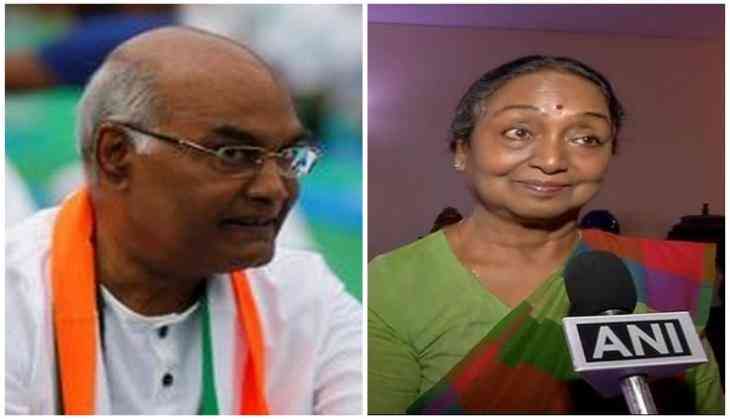 Voting for electing the 14th president of India has begun in the Parliament complex.The face-off is between National Democratic Alliance (NDA) candidate Ram Nath Kovind and Opposition candidate Meira Kumar. The final result will be declared by 5 p.m.
Here are the eleven key points of the presidential elections:
Counting of votes began at 11 a.m. at the Parliament House. Ballot boxes, collected from all the states across India, have been locked inside the House. Results will be out by 5 p.m.
The votes will be counted on four separate tables and there would be eight rounds of counting
Counting will be held under the supervision of Lok Sabha Secretary General Anoop Mishra, who is also the Returning Officer.
The presidential poll on 17 July saw nearly 99 per cent voting, the highest ever, according to returning officer.
32 polling stations including the one in Parliament House, were set up in various states. A total of 4,895 voters -- 4,120 MLAs and 776 elected MPs -- were eligible to vote.
Madhya Pradesh Minister Narottam Mishra did not cast his vote as he was disqualified by the poll body over the allegations of "paid news".
While the value of a legislator's vote depends on the population of the state he or she belongs to, the value of a Member of Parliament's vote remains the same at 708.
Ram Nath Kovind, 71, is a farmer's son and his humble origins and simple lifestyle were stressed by BJP leaders. The former Bihar Governor has served two terms as a member of the Rajya Sabha. He is a trained lawyer who has appeared at the High Court and Supreme Court.
If elected, Ram Nath Kovind will be the second Dalit President of India after K R Narayanan.
Pitching the contest as a battle of ideologies, a 17-member bloc of opposition parties had announced former Lok Sabha Speaker Meira Kumar as their candidate.
President Pranab Mukherjee's term ends on 24 July and the India's 14th president will take oath the next day.
-ANI