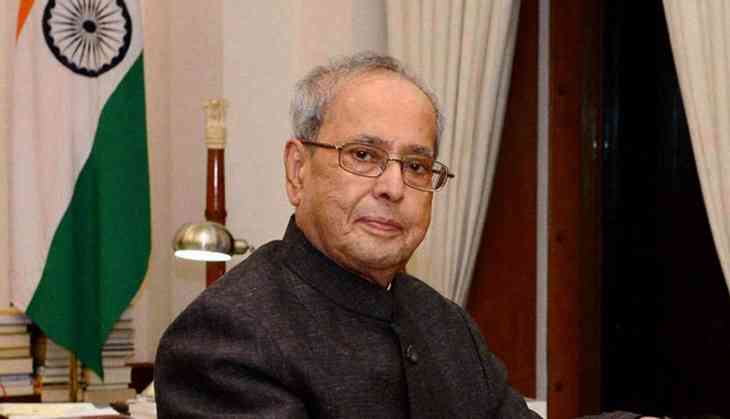 President Mukherjee condemns Manchester attack, extends support to UK
President Pranab Mukherjee on Tuesday condemned the explosion that took place in Manchester on Monday night leaving 19 dead.
Taking to Twitter, President Mukherjee while expressing his grievance extended support to the people of United Kingdom and the Government, in this 'hour of distress'.
Shocked to hear of Manchester blast ;condolences to families of deceased & prayers for injured #PresidentMukherjee

— President of India (@RashtrapatiBhvn) May 23, 2017
India stands by Government and people of UK in this hour of distress #PresidentMukherjee

— President of India (@RashtrapatiBhvn) May 23, 2017
The suspected terror attack, which claimed over 19 lives and injured over 50 people, took place during pop singer Ariana Grande's concert.
Greater Manchester Police confirmed the number of casualties in the explosions and said that the incident is being treated as terrorist attacks until further investigation.
Two loud explosions were reportedly heard near the ticket office of the arena.
However, the cause of the reported blast is still not known.
A man found dead at the scene is thought to be the probable suicide bomber, according to reports.
Last England saw such a deadly terror attack was in 2005 when on July 7, terrorists carried out a series of coordinated suicide bomb attacks in central London which targeted civilians using the public transport system during the rush hour.
Fifty-two people were killed and over 700 more were injured in the attacks.
Meanwhile, Greater Manchester Police while condemning the attack urged citizens to be alert at all times, adding that the area around Manchester Arena must be avoided.
Confirming the details of the attack, Chief Constable of Greater Manchester Police Ian Hopkins said the investigation to identify the perpetrators behind the deadly attack is underway, until which the attack is being treated as a terrorist incident.
"We are working closely with the National Counter Terrorism Policing Network and U.K. Intelligence partners. It is recommended that citizens of Manchester remain away from the area and be vigilant at all times. We are doing all that we can," he said.
Reports of the explosion which killed over 19 people and injured 50 were received around 10.33 pm at the conclusion of Ariana Grande's concert. The injured are currently being treated across six hospitals in the city.
-ANI