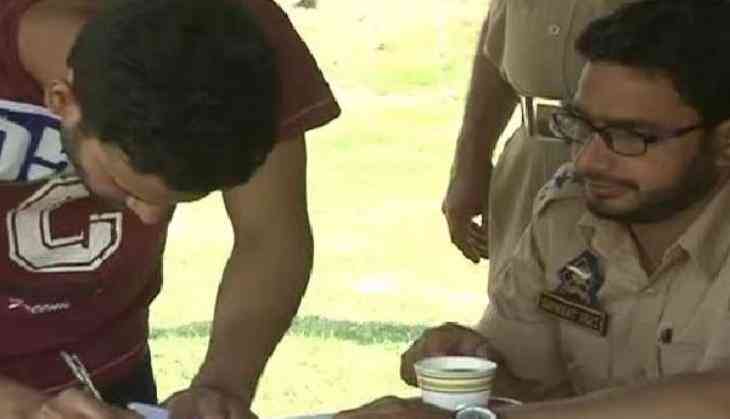 Police Recruitment: Despite terror threat, Kashmiri youth turn out in large numbers (ANI)
The Jammu and Kashmir Police on Saturday started their two day recruitment process, as around three thousand Kashmiri youth were seen taking part in the exercise.
Despite local militant threats warning the youngsters of the Valley against joining Indian security forces, young men were seen stepping up to enroll.
Since unemployment is the biggest problem in Kashmir valley, the Jammu and Kashmir police is coming forward to help these youth in securing jobs.
"Unemployment is a big issue here that's why inspite of threats people are turning up, everyone here wants to secure a job somewhere. I'm very happy with this initiative there should be many more such rallies in the future," participant Parvez Ahemad told ANI.
"67,218 candidates from various districts of the state have applied for the posts of 698 sub-inspectors in the executive, armed and telecommunication wings of the state police. While 31,496 of these candidates are from Jammu province, as many as 35,722 are from Kashmir," said Deputy Inspector general Rafiq-ul Hasan.
The candidates are required to undergo Physical Endurance Tests (PET) and Physical Standard Tests (PST) in the first phase in Bakshi Stadium, Srinagar.
He added that the whole process is computerized and transparency is being observed.
Earlier on May 10 the Jammu and Kashmir police had also conducted recruitment drive for the posts of constable in Anantang and Bandipora districts of the state also saw overwhelming response.
"People sideline everything, be it threats or unrest in the state and look for job opportunities. I want to protect the common people of the state if selected," said Shahnawaz Hanif a participating candidate.
The turnout is significant as it happens right after militants killed a young Kashmiri Army officer Ummer Fayaz in an attempt to deter the locals from joining government forces. The killing has caused rage among locals who demanded that the men responsible be identified and punished.
In the light of growing confrontation between Kashmiri youth and security forces across the valley since Hizbul Mujahideen commander Burhan Wani's encounter in July last year, this overwhelming turnout is unique.
-ANI