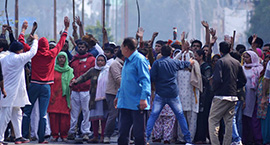 Few hours after the alleged rape of women at Murthal was reported, the Punjab and Haryana High Courts took cognizance of the incident that ocurred during the protest of the Jat community.
Justice NK Sanghi has written to acting Chief Justice to look into the issue and take appropriate actions. The HC should not sit as a spectator, he reportedly stated.
Women occupants in vehicles on the National Highway-1 were forcefully dragged out of their cars and allegedly raped by the agitators.
However, Haryana Police has denied any such incident.
According to an HT report, Sanghi is learnt to have termed the police action as painful. The police instead of helping the family, advised them to not report the incidents.
The HC is in favour for an independent inquiry.