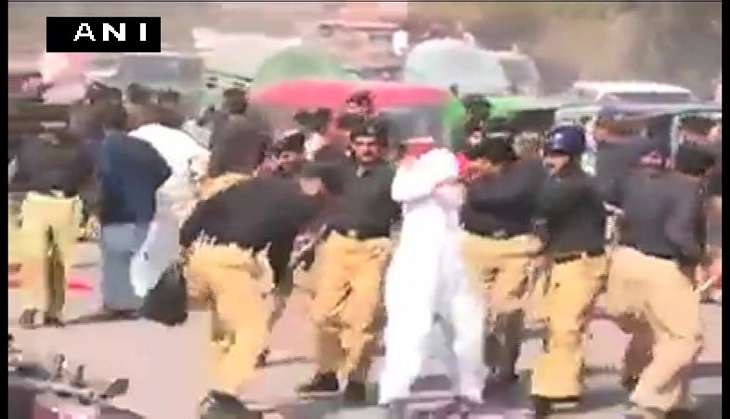 Massive demonstrations were held across Pakistan-occupied Kashmir on 27 October to mark 'Black Day'.
Despite the use of "brute force" and heavy crackdown by Pakistani security forces, hundreds of agitated people took to the streets in Bhimber, Kotli, Muzaffarabad, Mirpur and other parts of Pakistan-occupied Kashmir.
Angst by Pakistan's oppression angry members of the Jammu and Kashmir National Students Federation even attempted to cross over into the Indian Territory.
Mass arrests were made, batons charged and tear gas shells unleashed on peaceful protesters; besides, press was gagged and all attempts were made to muzzle the widespread protests.
On this day in 1947, Pakistan had violated all international norms and had sent tribal's to invade Kashmir, since then this day has been marked as Black Day every year.
PoK residents, who continue to live under Pakistan's occupation, often use this day to highlight miseries and oppression they are undergoing under Pakistan's occupation.
"Pakistan talks about Srinagar and Delhi, but look what they have done here. There is no pond of milk and honey here in Pok," said a leader of the National Student Federation here.
Venting anger against Islamabad, he further said, "We don't believe in this kind of Azadi; Pakistanfailed to resolve its own issues and it should first deal with terrorists, which it gave birth to. Look at Nawaz Sharif (Prime Minister) wherever he goes in the world, Raheel Sharif (Army Chief) follows him."
Protestors used the occasion for drawing attention to the plight of people and sorry state of democracy and freedom in Pakistan occupied Kashmir.
--ANI
#WATCH: Police thrash protesters to silence Black day protests in PoK pic.twitter.com/Ho3h3vu93T

— ANI (@ANI_news) October 27, 2016