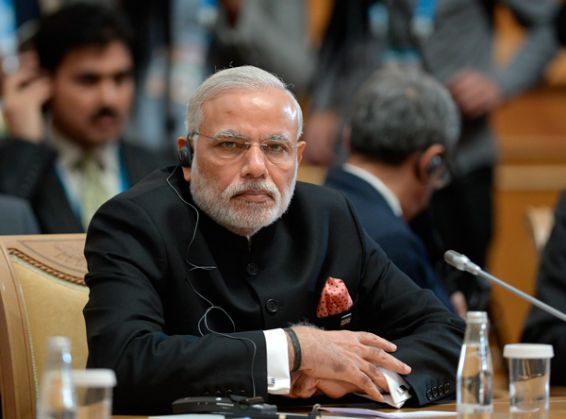 Prime Minister Narendra Modi will hold a wide-ranging discussion on global economic scenario with business leaders, including Reliance Industries head Mukesh Ambani, Tata Group Chairman Cyrus Mistry as well as bankers and economists.
"The meeting will be attended by over 40 delegates, including Cabinet ministers, top officials of the government and RBI, industry representatives, top bankers and leading economists and sectoral experts," a statement from the Prime Minister's Office said.
The high-level consultative meeting on the agenda -- 'Recent Global Events: Opportunities for India', would also be attended by RBI Governor Raghuram Rajan and Niti Aayog Vice-Chairman Arvind Panagariya.
The meeting is being held amid turbulence in global markets caused by a slowing Chinese economy, devaluation of the yuan and concerns surrounding the prospect of a US rate hike.
As many has 27 business leaders, bankers and economists have been invited for the meeting to deliberate on the recent developments in the global economy and the opportunities they present for India, sources said.
Other invitees include Bharti Airtel chief Sunil Bharti Mittal, Essar Group head Shashi Ruia, Reliance Group Chairman Anil Ambani, Adani Group head Gautam Adani, ICICI Bank CEO Chanda Kochhar and SBI Chairman Arundhati Bhattacharya.
Mahindra Group Chairman and MD Anand Mahindra and Aditya Birla Group head Kumar Mangalam Birla are said to be among the other invitees for the meeting for which industry chambers' heads -- Sumit Mazumder of CII, Jyotsna Suri of FICCI and Rana Kapoor of Assocham -- have also been called.
Finance Secretary Ratan P Watal, Commerce Secretary Rita Teaotia, Economic Affairs Secretary Shaktikanta Das and Chief Economic Advisor Arvind Subramanian will be present at the meeting.
Each speaker will be given three minutes to make initial remarks, sources said.
"A wide-ranging discussion is expected on the impact of recent economic events, and how best India can take advantage of them," the PMO statement said. .The heads of all three industry chambers including FICCI, CII and Assocham have been invited for the meet. Last time, the Prime Minister had separate meetings with the delegations of Confederation of Indian Industry and Federation of Indian Chambers of Commerce and Industry which raised issues like investments not picking up due to high cost of capital, poor credit growth and difficulties faced by small and medium enterprises in doing business.
--PTI