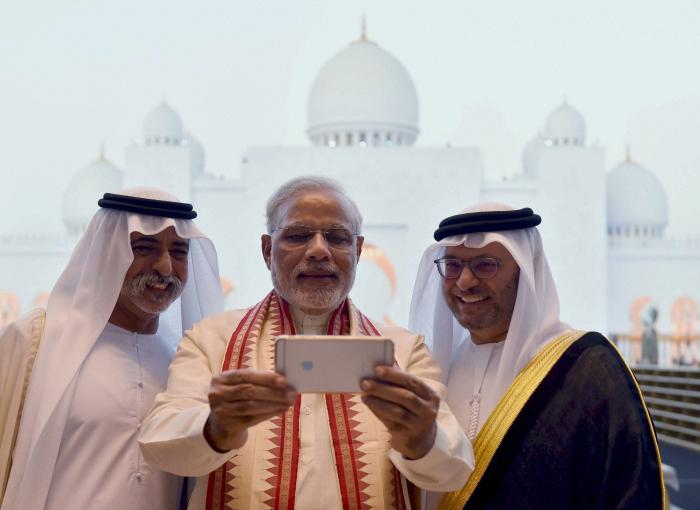 Prime Minister Narendra Modi who is on a two day visit to United Arab Emirates has a host of issues mainly focusing on improved cooperation in trade and commerce, on the agenda. However, amid all the trade talks, it is highly likely that India's most wanted Dawood Ibrahim's name would also find mention.
India Today reported that Modi is likely to urge authorities in UAE to seize benaami properties belonging to wanted underworld don Dawood Ibrahim. National Security Adviser (NSA) Ajit Doval, who is accompanying the PM on the tour, will reportedly handover a confidential list of Dawood's properties in UAE. The dossier on Dawood also includes information about his shares in many companies and details about his hotel ventures across UAE.
Dawood's brother Anis Ibrahim runs a company named Golden Box in Dubai with the help of his brother-in-law.
Earlier, Pravin Togadia the International Working President of the Vishva Hindu Parishad (VHP) had expressed his confidence in the fact that Modi will be able to bring Dawood, alleged mastermind of 1993 Mumbai serial blasts to India. He said, "As the two countries are scheduled to hold talks on August 23, I am confident that our Narendra-bhai will bring Dawood, Lakhvi and Hafeez back to India and hang them in Delhi for their crimes."
Prime Minister Modi is scheduled to hold talks with UAE leaders and address Indian diaspora on day 2 of his UAE visit on 17 August. PM Modi will travel to Dubai and meet UAE Vice President and Prime Minister Sheikh Mohammed bin Rashid Al Maktoum.