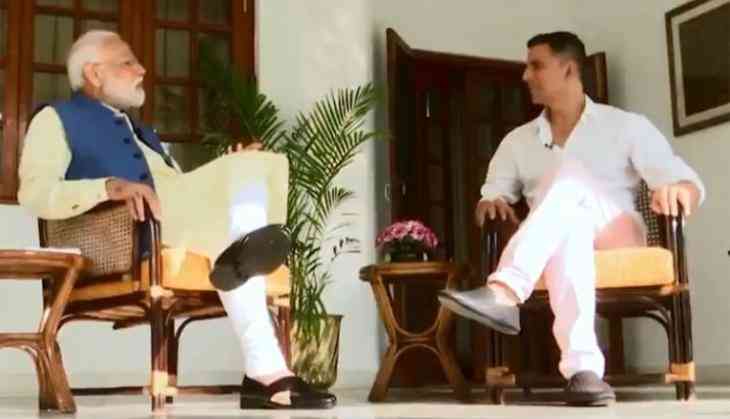 In the first non-journalist and 'non-political' chat with Bollywood superstar Akshay Kumar, Prime Minister Narendra Modi has shared several unknown yet interesting facts about his life on Wednesday. From his childhood life to why he sleeps for only 3.5 hours to his friendship with Opposition leaders, PM Modi had a heart-to-heart conversation with Akshay Kumar.
Akshay Kumar interacted with PM Narendra Modi at Lok Kalyan Marg, where he asked asked PM if he ever thought of becoming Prime Minister on which Modi shared an surprising fact of his life.
PM Modi said he was always fond of armed forces. "I wanted to join the Indian Armed Forces and never thought of becoming the Prime Minister of India," PM Modi said. PM revealed that he was fond of reading biographies.
PM Modi also said, "If I would have got a good job, then also my mom would have been happy. She would have distributed sweets," says Prime Minister Narendra Modi.
#WATCH PM Narendra Modi during interaction with Akshay Kumar, speaks on if he ever thought that one day he will become the Prime Minister pic.twitter.com/aXhJE3ImwF

— ANI (@ANI) April 24, 2019
PM Modi also opened up about his chilhood and said, "During childhood, I would go to the library and read about big people. I would watch people in uniform getting respect. Then I read about a Sainik school in Gujarat. In my locality, there was a school principal. I went to meet him. I have never been intimidated by meeting big people. He loved me a lot. He explained to me about life. Then I went towards the Himalayas and I witnessed a lot of life between the age of 18-20. I had lot of questions when I was young. I used to find answers to the questions myself and this is how I reached where I am."