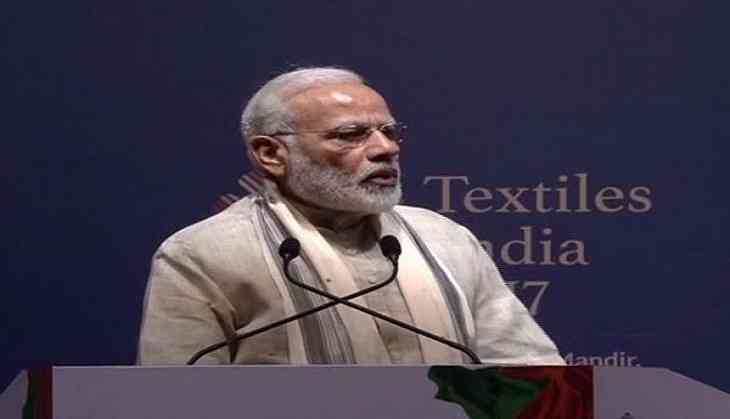 Prime Minister Narendra Modi (ANI)
Prime Minister Narendra Modi on 12 September chaired a Union Cabinet meeting to clear various proposals.
According to the sources, Prime Minister Modi asked his ministers to participate more actively in cleanliness fortnight that will start from 15 September and continue till 2 October.
According to the sources, a documentary was also shown to all the ministers and Prime Minister asked them to conduct cleanliness drive across the country.
It is pertinent to mention here that Prime Minister Modi is spearheading the cleanliness drive in India. He officially launched Swachh Bharat Mission (Clean India Mission) on 2 October, 2014 at Rajghat, New Delhi.
Swachh Bharat Abhiyan is a drive to keep the streets, roads and infrastructure of the country's 4,041 statutory cities and towns and its rural areas clean. The mission is bifurcated into sub-missions as Swachh Bharat Abhiyan (Gramin), under Ministry of Drinking Water and Sanitation, and Swachh Bharat Abhiyan (Urban), under Ministry of Housing and Urban Affairs.
Through the programme, the government is aiming to achieve an Open-Defecation Free (ODF) India by October 2nd, 2019, the 150th birth anniversary of Mahatma Gandhi.
Under the urban mission, it was initially announced that by October 2019 a total of 1.04 crore individual household toilets would be constructed.
However, many states are lagging in the cleanliness drive.
For example; according to last year's Swachh Bharat Mission (SBM) data, the North-East region-except Sikkim-was the worst performing region under the urban SBM, and Delhi met just 0.006 percent of its target over two years to October 2016. However, Gujarat and Andhra Pradesh met mission target much ahead of time.
Kerala, on 1 November, 2016, declared itself to be India's third state to be free of open defecation after Himachal Pradesh and Sikkim.
According to the sources, Prime Minister Modi also asked the Cabinet Ministers to educate Ministers of State about the governance so that their performance is increased.
Recently, nine ministers were inducted in the Modi cabinet in the reshuffle and few of them are bureaucrats who don't have enough experience of minsitership.
The Cabinet chaired by Prime Minister Modi approved release of additional 1percent Dearness Allowance to Central Government employees and Dearness Relief to pensioners w.e.f. 01.07.2017; MoU between India and Morocco on cooperation in the field of health; MoU between India and Armenia on Cooperation in the field of Disaster Management; hiving off mobile tower assets of Bharat Sanchar Nigam Limited into a separate company, fully owned by BSNL, and introduction of the Payment of Gratuity (Amendment) Bill, 2017 in the Parliament.
-ANI