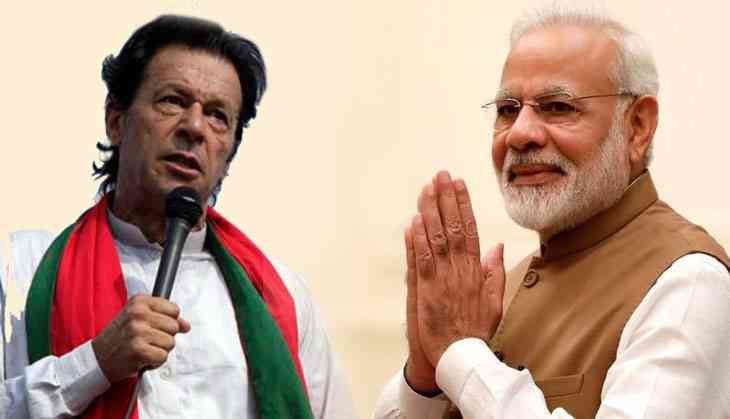 PM Naredra Modi congratulates Pakistan's newly elected Prime Minister Imran Khan; says, 'we are for good relations'. PM Modi wrote a congratulatory letter to Imran Khan. However, there was no new proposal for dialogue, said Sources on Pakistan Foreign Minister SM Quershi's claiming that PM Modi wrote a letter to Imran Khan in which he indicated the beginning of talks.
Prime Minister Modi said, "we are for good neighbourly relations. We should look for constructive and meaningful engagement towards this."
Imran Khan sworn-in as Pakistan's 22nd Prime Minister, administered by President Mamnoon Hussain on 18th August. Cricketer-turned-politician and PTI chief Imran Khan took oath at the President House in Islamabad.
On the occasion of Imran Khan's swear-in, Punjab Minister and former cricketer Navjyot Singh Sidhu had reached at the neighbouring country on Friday to attend Khan's oath-taking ceremony. He was an only personality to visit the oath ceremony of Pakistan's PM Imran Khan.
Earlier, after Khan won the elections, PM Modi had telephoned him and spoke on "peace and development" in the region. While days earlier, Pakistan PM Khan had stressed that he wanted to fix ties between the two countries. "You take one step forward, we will take two," he had said.
Other than Navjyot Singh Sidhu, Sunil Gavaskar and Kapil Dev were also invited to his oath ceremony. In the 15th National Assembly election held on July 25, Imran Khan's PTI emerged as the largest party by securing 116 seats. Opposition parties Pakistan Muslim League (PML-N) and Pakistan People's Party (PPP) won 64 and 43 seats respectively.
On Friday, of the total National Assembly members, 176 voted in favour of Khan, while his opponent, Shahbaz received 96 votes. After which PTI chief Khan was elected as Pakistan's 22nd PM.
After Sidhu's visit to the oath-taking ceremony hugging the Pakistan's Army chief, a storm of criticism has been coming across the country from the oppositions leaders and also from his boss and Congress Chief Minister of Punjab, Amarinder Singh.
Also read: Kerala man makes derogatory comments on Kerala floods victims in a Facebook post; Gulf firm tought him a lesson for life