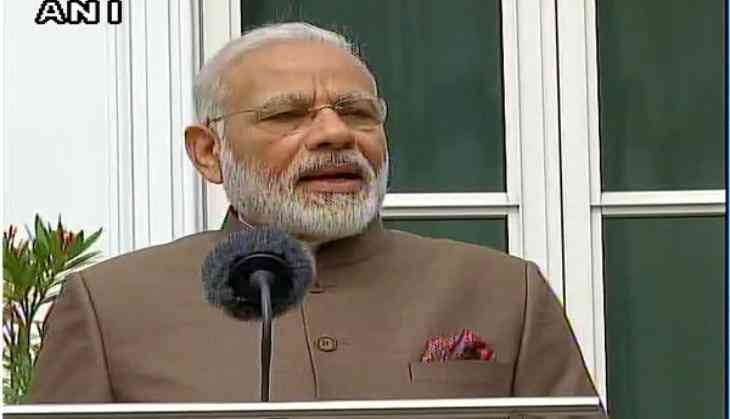 Indian Prime Minister Narendra Modi on 27 June thanked The Netherlands for helping India get membership of the Missile Technology Control Regime (MTCR) last year.
"It is with the help of Netherlands that India successfully got membership of the Missile Technology Control Regime last year," Prime Minister Modi said in joint statement with his Dutch counterpart Mark Rutte at Catshuis.
Modi also expressed his gratitude to the warm welcome that was accorded to him and his entire delegation, adding that this shows The Netherlands warm sentiments towards the people of India.
"This visit of mine to The Netherlands was decided at a very short notice, and yet, I have to put it on record that the way the visit has been organized, not only would you agree to accommodating this visit at a short notice, but in a very short period of time, a very substantive programme has been set up, and it is a very result oriented program," he said.
Asserting that ties between India and The Netherlands are very old, Modi said that bilateral relations between both sides are very strong.
Describing The Netherlands as a natural partner in the economic development of India, he said bilateral trade and economic ties between both sides are increasing.
He added that the both countries have intention to always make bilateral ties deeper and closer.
"Today, the world is inter-dependent and inter-connected, therefore, its absolutely natural that in our discussions that we will not only discuss bilateral issues, but also international issues of importance," Modi said.
Emphasising on the importance of the Indian Diaspora in The Netherlands, Modi said they are the living links and living bridge between the two countries.
Earlier, Modi arrived in The Netherlands on the final leg of his three-nation tour after concluding his visit to the United States.
Prime Minister Modi will call on King Willem-Alexander. He will also be meeting CEOs of major Dutch companies and the Indian Diaspora in The Netherlands before heading home this evening.
-ANI