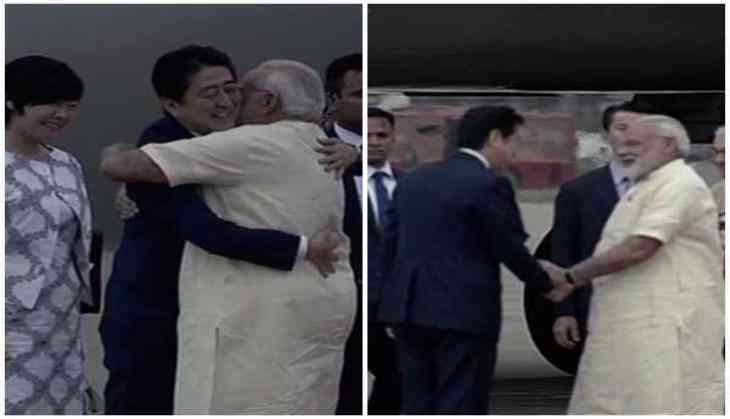 PM Modi receives Japanese counterpart Shinzo Abe at Ahmedabad
Prime Minister Narendra Modi received his Japanese counterpart Shinzo Abe at the Sardar Vallabhbhai Patel International Airport in Ahmedabad, Gujarat, on Wednesday.
Japanese Prime Minister Shinzo Abe, who is on a two-day visit to India, will visit the Sabarmati Ashram, along with Prime Minister Modi in the evening. The ashram was established by Mahatma Gandhi on the banks of the River Sabarmati.
The Japanese Prime Minister will attend the India-Japan annual summit meeting, wherein the two leaders are expected to focus on enhancing bilateral and strategic ties.
The 12th edition of the summit, which will be the fourth meeting between Prime Minister Modi and Shinzo Abe, will be held in Gandhinagar.
The two leaders will review the recent progress in the multifaceted co-operation between India and Japan under the framework of their 'Special Strategic and Global Partnership' and will set its future direction.
Prime Minister Modi and the Japanese PM will also attend a function to mark the commencement of work of India's first high-speed rail project between Ahmedabad and Mumbai.
The train is expected to significantly reduce the travel time between the two cities. Japan is a pioneer in high-speed rail networks, and its Shinkansen bullet train is among the fastest in the world.
An India-Japan Business Plenary will also be held.
The leaders will also visit the Sidi Saiyyid Ni Jaali - a famous 16th century mosque in Ahmedabad. Besides, the two leaders will visit Dandi Kutir, the museum dedicated to Mahatma Gandhi, at the Mahatma Mandir.
Ahead of the Japanese Prime Minister's visit, Prime Minister Modi on Tuesday said in a tweet that India truly values its ties with Japan and looks forward to further boosting the bilateral relations in a wide range of areas.
-ANI