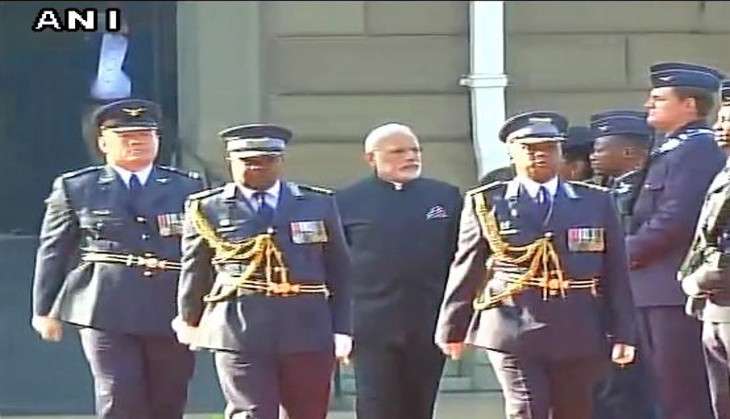 Prime Minister Narendra Modi received a ceremonial welcome at the Union Building of Pretoria on 8 July, where he will have a private conversation with President Jacob Zuma followed by delegation-level talks and meetings with South African leaders.
In the evening, PM Modi will visit the Nelson Mandela Foundation and will later address an Indian community programme.
The Prime Minister arrived in Pretoria on evening of 8 July on the second leg of his four-nation five-day tour to the African continent with an aim to enhance mutual cooperation and understanding on major issues of common interest.
South Africa Minister of International Relations and Cooperation Nkoana-Mashabane and Minister for Small Business Lindiwe Zulu welcomed the Prime Minister at the Waterkloof Air Force Base.
PM Modi will later attend an official lunch hosted by President Zuma.
He will meet Deputy President Cyril Ramaphosa, and participate in the India-South Africa Business Meet.
Thereafter, he will depart for Johannesburg. The Prime Minister is also expected to visit Pietermaritzburg and Durban. Pietermaritzburg is the place where Mahatma Gandhi was thrown out of the train compartment.
With South Africa, India cooperates and works closely in multi-lateral fora like BRICS, IBSA, G20 and BASIC.
--ANI