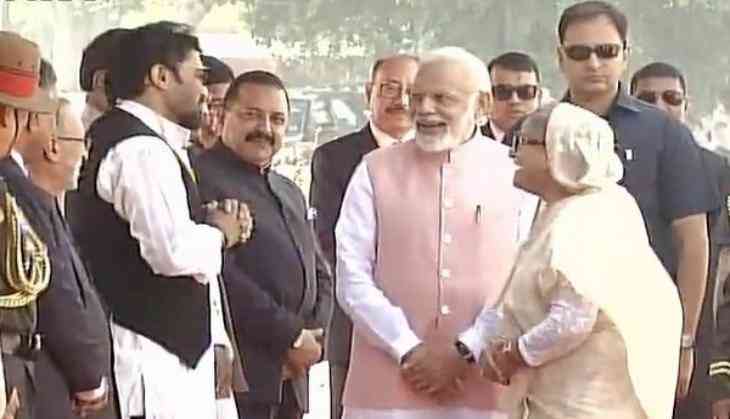 Prime Minister Narendra Modi and his Bangladeshi counterpart Sheikh Hasina on 8 April, 2017 inaugurated two rail and a road connectivity project via video conferencing.
"Building the ties that bind, one step at a time. The two leaders inaugurate two rail and a road connectivity project via video conference," Ministry of External Affairs (MEA) official spokesperson Gopal Baglay tweeted.
Khulna-Kolkata Maitree Express was inaugurated which will run from Khulna (Bangladesh) to Kolkata via Petropole-Benapole (Bangladesh).
Kolkata-Khulna-Dhaka bus service was also inaugurated on the occasion. The trial runs of the bus service were conducted on 30 October, 2016 and 31 October, 2016. It will be further extended to Dhaka as requested by Bangladesh.
There was inauguration of Radhikapur-Birol rail link and flagging off a cargo consignment of High Speed Diesel from Numaligarh Refinery Limited. It is the fourth rail link to be operational between the two nations.
It will reduce the cost of freight by half as the distance covered will be shorter.
The two leaders also released the Hindi translation of founding leader of Bangladesh Sheikh Mujibur Rahman's 'The Unfinished Memoirs.
"An invaluable glimpse into the life of an inspiring leader. The leaders release Hindi translation of Bangabandhu's 'The Unfinished Memoirs'," Baglay tweeted.
Prime Minister Modi also wished the people of Bangladesh on upcoming new year and noted that Hasina's visit marks a golden era in India-Bangladesh friendship.
Shaping the future of bilateral ties, Prime Minister Modi and the Bangladesh Prime Minister led delegation level talks.
Strengthening all-round cooperation, the two leaders witnessed exchange of four agreements/MoUs out of 22 signed in a wide range of bilateral relations.
-ANI