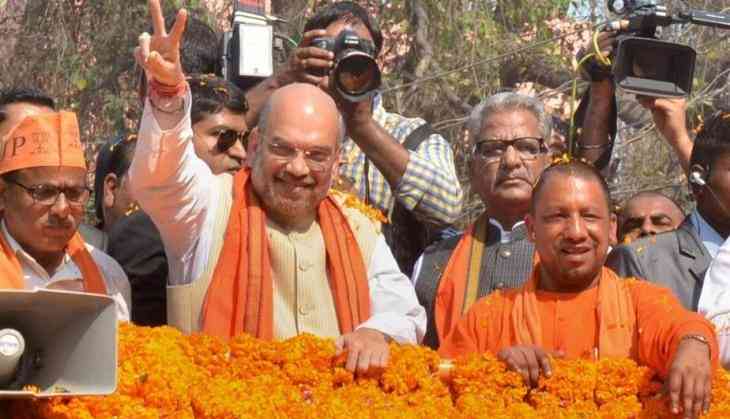 Bharatiya Janata Party (BJP) president Amit Shah on Saturday hailed Prime Minister Narendra Modi's four years of good governance, saying the 'Prime Minister has ended politics of dynasty and casteism, and ushered in politics of development.'
Addressing a press conference here, Shah said, "BJP provided the most hardworking and the most popular leader in the world to the country, a Prime Minister who works for 15-18 hours a day. We are proud that this Prime Minister is a leader of BJP."
Shah said the Prime Minister was sworn-in at a time when people had stopped believing that the nation would ever progress under a multi-party democratic system.
Praising the (BJP)-led NDA government at the Centre, Shah said the party is proud of having given a corruption-free, strong decision- making administration, one that understands the needs of the people.
Talking about people's trust in the government, Shah said that at present 20 states have an NDA government and 65 percent have a BJP government.
"We have done millions of crores of infrastructure projects without a scam. We have been working to give millions of people by promoting self-employment and ours is the first government to double the agricultural budget," he said.
The BJP chief also said the government has resolved the issue of 'One Rank One Pension' for the armed forces within a year of coming to power. He also said that several measures such as the constitution of a Special Investigation Team (SIT) to curb black money were taken by the government.
Reacting to Congress President Rahul Gandhi's 'report card' tweet, Shah in a befitting reply said, "What else do you expect from Rahul Gandhi? He is in the opposition, he has to do this. We have presented facts and figures and anyone can challenge that."
He further said, "The Opposition's agenda is to remove the Prime Minister and the BJP, but our agenda is to provide stability and development by removing corruption and poverty from the country."
As fuel prices continue to increase causing inconvenience to the general public, Shah said current prices of petrol and diesel were the same during three years of Congress rule as well.
He assured that the Prime Minister-led government will soon evolve a long-term solution.
Speaking about repeated incidents of ceasefire violations along the Line of Control (LoC), Shah said, "BJP considers war as the last option. However, we have zero tolerance regarding the safety of our borders. The most number of terrorists have been killed under the rule of the BJP government."
Giving an open message to Shiv Sena, Shah stated that the BJP wants the Shiv Sena andwith it for the 2019 elections, adding that they are still together at both the Centre and in Maharashtra.
When asked to comment on the Shiv Sena's recent remark about going it alone in the 2019 elections, Shah said, "You should ask them".
For the unversed, Prime Minister Narendra Modi took over as the prime minister on May 26, 2014, after the BJP won an overwhelming majority of 282 seats.
The ruling party has also come up with a new slogan - 'Saaf Niyat, Sahi Vikas.'
(ANI)