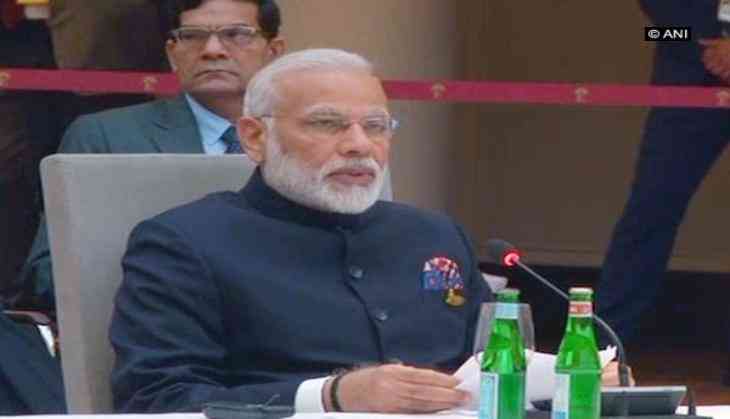 Prime Minister Narendra Modi on Wednesday chaired his twentieth interaction through PRAGATI- an ICT based, multi-modal platform for Pro-Active Governance and Timely Implementation, assuring help to all North-Eastern States from the Centre.
Prime Minister Modi began the meeting with a review of the situation arising out of flood and other natural calamities in the North-Eastern States.
The Prime Minister also urged all the Chief Secretaries to work expeditiously towards ensuring that all traders register under the Goods and Service Tax (GST) regime and this has to be completed before August 15.
During the discussion, Prime Minister Modi reviewed the progress towards handling of grievances related to Central Public Works Department (CPWD), and Directorate of Estates. He asked the Ministry of Urban Development to proactively monitor the same, with sensitivity.
Prime Minister Modi urged CPWD to encourage all vendors to come aboard the Government e-Marketplace (GeM) platform. He also reviewed the progress of vital and long-pending infrastructure projects in railway, road and petroleum sectors, which is spread over several states including Maharashtra, Karnataka, Andhra Pradesh, Tamil Nadu, West Bengal, Odisha, Uttar Pradesh, Uttarakhand, Himachal Pradesh, and Arunachal Pradesh.
The projects, which were reviewed during the meeting included the Chennai Beach-Korukkupet third line and the Chennai Beach-Attippattu fourth line; the Howrah-Amta-Champadanga new Broad Gauge line; and four-laning of Varanasi bypass; four-laning of Muzaffarnagar-Haridwar section of NH-58.
Noting that several of the projects reviewed have been pending for decades and in one case for over four decades, so then Prime Minister Modi urged all Chief Secretaries to take all possible steps to avoid delays and result in cost escalations. He emphasized on speedy implementation of such infrastructure projects.
Prime Minister Modi finally reviewed the progress of the Pradhan Mantri Awas Yojana (Urban), where he urged the concerned departments to accelerate the adoption of new construction technologies at the earliest.
-ANI