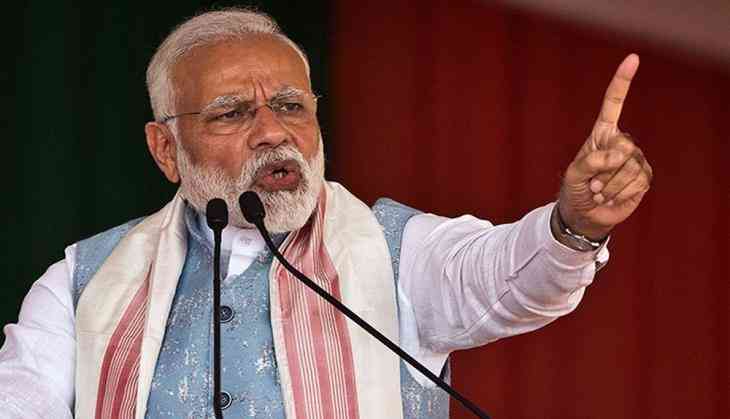 Prime Minister Narendra Modi on Wednesday alleged that Congress' 'Naamdaar family and Bihar's corrupt family have assets worth thousands of crores' and asked the source of their income.
"Be it Congress' Naamdaar family or the corrupt family in Bihar, their assets are in hundred-thousand crores now. From where did the money come? Had they cared a little for the nation and the poor, they would have hesitated from indulging in corruption," said Prime Minister Modi while addressing an election rally.
"They live within such high walls that they cannot see the pain of the poor. They have lost touch with the land after usurping hundreds of acres of land. Even today their eyes are only open for looking for stolen money," said Modi.
Prime Minister Modi also spoke about PM-KISAN scheme and outlined his government's vision to make farmers a significant part of the solar energy source.
"We have pledged to double the income of farmers by 2022. We have decided to help them become solar-power providers. Agricultural farms can not only give food products but also solar energy. Our government is already working on this mode," he said.
With only little more than two days left for the campaigning of the last phase of seven-phased Lok Sabha polls, Modi said that this will be his last election rally, apparently in the state of Bihar.
"This is my last public meeting today. This is my last opportunity to seek blessings for the 2019 elections. After accepting the Prime Minister's post once again with the intent to serve, I will be back among you with a large number of development initiatives," he said.
Prime Minister Modi is scheduled to address three more rallies in the day -- one in Jharkhand and two others in West Bengal.
Eight seats of Bihar will be going to polls in the last phase of seven-phased of elections on May 19. In West Bengal, nine seats will go to polls. The counting of votes will take place on May 23.
-ANI