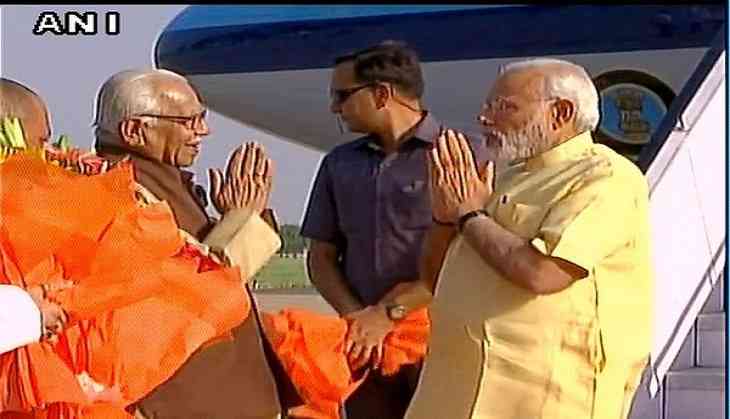 Prime Minister Narendra Modi arrived here on Tuesday evening on a two-day visit to the Uttar Pradesh capital.
Shortly after his arrival, the Prime Minister inaugurated to newly developed campus of Central Drug Research Institute (CDRI) in the evening.
He will also inaugurate the new building of Dr APJ Abdul Kalam Technical University. During the function, the Prime Minister will handover allotment letters of houses under Pradhan Mantri Awas Yojna to 20 beneficiaries.
He will also dedicate to the nation of 400 KV transmission line between Lucknow and Kanpur.
On Wednesday, Prime Minister Modi will participate in the International Yoga Day function at Ramabai Ambedkar Ground with over 60,000 participants.
The 80-minute yoga session is expected to begin around 6:30 in the morning. Several dignitaries, politicians and bureaucrats will participate in the event.
Massive security arrangements have been made for the Prime Minister's visit.
A large number of police personnel and 25 companies of Provincial Armed Constabulary (PAC) have been deployed.
Over 400 CCTV cameras have been installed, with drone cameras also pressed into service at different venues.
The stage is all set as Prime Minister Modi, Governor Ram Naik, Chief Minister Yogi Adityanath and Deputy Chief Minister Keshaw Prasad Maurya will be performing Yoga along with above 60,000 participants including students of several schools, paramilitary personnel, government officials and volunteers.
Several dignitaries, politicians and bureaucrats will also gather at the Ground to participate into the function.
In an attempt to make the International Yoga Day programme a success, various organisations, NGOs and Yoga gurus have held camps and practice sessions.
Through LED TVs installed all across the ground, there will be a live telecast of the yoga session.
Those who will not be able to make it to the Ramabai Ambedkar ground will have an opportunity to perform yoga at any of the 11 parks across the city, selected for the event, where the event will be telecast live through LED TVs.
-ANI