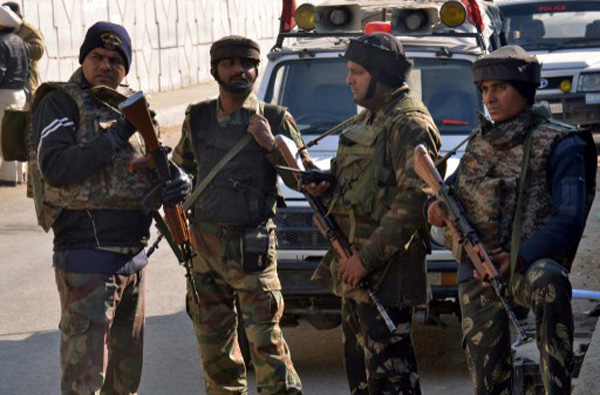 Almost 24 hours after terror struck at the Pathankot Air Force Base in Punjab, fresh firing has been reported, even as the combing operations to find any holed up terrorist is still on.
Two NSG commandos were injured and one died in the combing operations that resumed today at the Pathankot Air Force Base, where four terrorists were neutralised yesterday in a 17 hour gunbattle.
With Lt Colonel of National Security Gaurd, succumbing to his injuries the number of casualties in the security personnel camp has gone up to seven. Yesterday, three jawans were martyred fighting terrorists.
Three other succumbed to their injuries today. According to ANI, of the seven security personnel, one was a Garud commando and five other were part of the Defense Security Corps.
During the search operation that resumed at 7:30 am today, the site was being searched when the personnel accidentally set of a discarded explosive which was reportedly hidden in bushes.
The accidental explosion caused injuries to the person who was rushed for immediate treatment.
However, no reports have emerged of any remaining presence of terrorist in the Air Base.
Meanwhile, security remained tight at the Air Base a day after the attack and defence personnel were seen heavily patrolling the area.
Punjab Director General of Police Suresh Arora reached the site to assess the current situation and a team of the National Security guard arrived as combing operations resumed.
Meanwhile, an eight-member team of the National Investigation Agency (NIA) has reached Pathankot in Punjab to take over the probe into the attack.
The security around the area remained tight and defence personnel were seen patrolling the area. The technical area, where the IAF's MIG-21 fighter jets, MI-35 attack helicopters and other critical assets were stationed, was secure, they said.
Security agencies, including the Army, National Security Guards (NSG), Indian Air Force, para-military forces and Punjab Police were involved in the massive search operation inside the IAF base and nearby areas.
IAF helicopters could be seen flying over the base and nearby areas through the night and since early Sunday to assist ground forces in the operations.
With inputs from agencies.