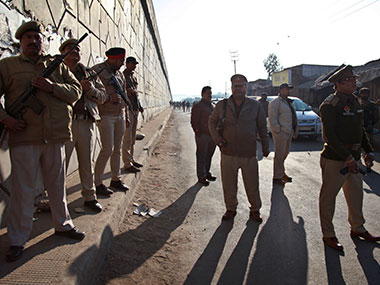 A fresh grenade blast ripped through the Air Force Base in Pathankot this morning claiming the life of an NSG commando, as three other security men succumbed to injuries in a hospital after yesterday's terror attack taking the toll of Indian security personnel to seven.
Lt Col Niranjan, a member of the NSG's Bomb Disposal Squad, was killed while he was defusing the grenade at the scene of the terror attack as part of the combing operations that continued through the night. Four other security men were also injured in the blast.
"Pained to know about demise of Lt. Col. Niranjan of NSG during mopping out ops at Pathankot, nation salutes his sacrifice," Home Minister Rajnath Singh reportedly said.
Defence sources said Niranjan, a resident of Kerala, was killed while trying to retrieve the grenade from the body of a dead terrorist.
Three members of the Defence Security Corps (DSC) succumbed to injuries in the hospital here during the night.
Four attackers, a Garud commando and three DSC were killed yesterday when heavily-armed Pakistani terrorists had attempted to storm the base, triggering a day-long gunbattle at the airbase, barely 35 kms from the Indo-Pak border.
Among those battling for their lives in the hospital are 8 DSC personnel and a Garud commando.
Meanwhile, two terrorists are still holed up inside the base even as the joint combing operation continued, a police official said. He added that the NIA had taken over the probe into the terror incident. Some senior officials of the Punjab Police led by DGP Suresh Arora are also present here.
The official said the operation will end only after a thorough search, going on inside the IAF base and nearby areas, was completed.
Various security agencies, including the Army, Indian Air Force, Central forces and Punjab Police were involved in the joint operation.
A large cache of arms and ammunition have already been recovered during the sanitisation and search operations.
IAF helicopters were also seen flying over the base and nearby areas to assist the ground forces in the operations.
In the wee hours yesterday, the group of terrorists in army fatigues had attempted to storm the base with the obvious intent of destroying MiG-21 fighter jets and MI-25 attack helicopters housed there.
The attackers were believed to have infiltrated from Pakistan and there was speculation that they may belong to Jaish-e-Mohammad headed Maulana Masood Azhar of the Kandahar hijack episode.
The terrorists were carrying Under Barrel Grenade Launchers, 52 mm mortars, AK rifles and GPS machine.
Based on intercepts, security agencies believe that one Nazeer from Bahawalpur in Pakistan was leading the group.
Defence sources said the terrorists sneaked into the nearly 2000-acre air base through a forested area where they were confronted by the Quick Reaction Team of Garud commandos. They managed to go up to 400 metres but were still 700 metres away from the area where the IAF aircraft fighters were stationed.
--PTI