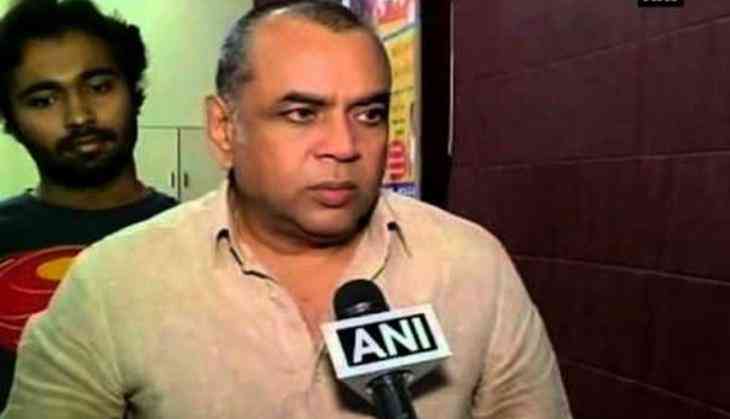 Paresh Rawal's tweet clear picture of BJP's 'dictatorial mentality': Congress (ANI)
Condemning Bollywood actor Paresh Rawal's tweet, where he took a jibe at noted writer Arundhati Roy, the Congress Party on Tuesday said it clearly demonstrates the 'dictatorial mentality' of the actor and the Bharatiya Janata Party (BJP).
Talking to ANI, Congress leader Shobha Oza said Paresh Rawal has used freedom of communication and speech in his tweet to silence people who think different from him.
"Whatever Paresh Rawal ji has said it shows his dictatorial mentality. It shows the dictatorship of the Bharatiya Janata Party (BJP)," she added.
Echoing similar sentiments, Janata Dal (United) leader Sharad Yadav said Paresh Rawal's tweet was condemnable and he should refrain himself from making such comments.
"Paresh Rawal's tweet is condemnable. These actors whose movie doesn't work comes to politics. What do they know about politics and about the people? They know nothing. They should refrain themselves from making such comments," he added.
However, supporting Rawal, BJP leader Subramanian Swamy has said that the stone pelters would love to hit a woman who "is not loyal to her own country."
"When you tie the leader of the pro-Pakistan movement, then the stone-pelters will give you a safe passage because they don't want to throw stones on their leaders and injure them. But if you put Arundhati, then they will not care. They think that if the woman is not loyal to her own country then how she can be loyal with us. They will therefore enjoy throwing stones at her," Swamy told ANI.
Earlier, Rawal raked up a Twitter storm when he took to the micro-blogging site to post a seemingly out-of-context tweet that conveyed the idea of 'tying' Roy to an Army jeep, drawing reference from a similar incident when a Kashmiri resident was tied to a jeep last month.
"Instead of tying stone pelter on the army jeep tie Arundhati Roy!", the Lok Sabha member tweeted on late Sunday night.
Rawal's tweet drew ire on the social media and people outrightly condemned the actor's "education." Many of them even highlighted the irony of his statement vis-a-vis his powerful performances in the movies.
One of the Twitter users wrote, "This tweet proves that lack of education ruins the ability of a Human to behave like a Human," while another tweeted, "Your acting was often commendable but your prejudiced mindset is condemnable. Telling d army to hide behind a brave woman is shameful."
An award-winning writer, Arundhati Roy is known for her controversial views on Kashmir. She has also widely criticised the Army's role in the Valley.
In April, a Kashmiri resident, allegedly a stone-pelter, was tied to an Army jeep as a human shield. This incident sparked an outrage in the Valley and across the country, following which an inquiry was launched into the incident.
-ANI