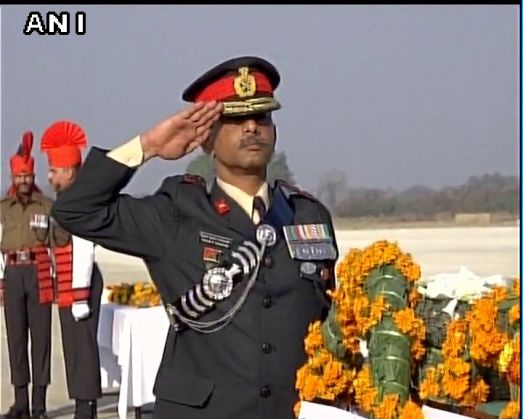 The last rites of 10 Paramilitary Army Captain Pawan Kumar will be conducted with full military honours today at his village in Jind of Haryana.
The 23-year-old Captain was among the three army personnel from elite Para unit who lost their lives yesterday in the ongoing encounter with militants in Pampore, Jammu and Kashmir.
Pathankot: Wreath laying ceremony of Captain Pawan Kumar who lost his life in #PamporeEncounter pic.twitter.com/rMA14LhCHw

- ANI (@ANI_news) February 22, 2016
The Army has appealed to the people of Haryana, hit by Jat quota stir, to extend support in giving a befitting farewell to this brave son of the soil.
Srinagar: Wreath laying ceremony of Captain Tushar Mahajan & Lance Naik Om Prakash underway #PamporeEncounter pic.twitter.com/KSWZyM21gu

- ANI (@ANI_news) February 22, 2016
'No father can be prouder', said 10 Para Army Captain Pawan Kumar's father Rajbir Singh. "I had one child, I gave him to the Army and to the nation. No father can be prouder," Singh said.
"Captain Pawan was martyred while he was leading his troops from the front. Indian Army officers always lead from the front as is evident from the operations here in Kashmir in the recent past. Captain Pawan was a young officer, son of a school teacher. He was a dynamic officer and a true commando. In fact, just last month, he was injured in an encounter in Pulwama just five days after his 23rd birthday. He was advised to go on sick leave, but he declined," Lieutenant General Satish Kumar Dua told ANI.
Twenty-three-year-old Kumar succumbed to his injuries yesterday after he led a troop that stormed the EDI Complex on Saturday, in which two to three militants are believed to be holed up. The captain, who hails from Jind, Haryana, is from 10 Parachute Regiment and has been part of two successful operations in which three terrorists were killed.
Meanwhile, the encounter in Pampore entered its third day today with the security forces making all attempts to neutralise the group of terrorists, who have taken refuge inside an Entrepreneurship Development Institute (EDI) building.
(ANI)